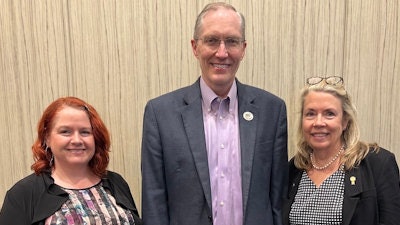 Three recipients are this year's winners of the Evidence-Based Dentistry Accomplished Faculty and Practice Awards from the ADA and the American Association for Dental, Oral, and Craniofacial Research (AADOCR).
Dr. Gregg Gilbert received the Accomplished Faculty Award; Joanna M. Scott, PhD, received the Mid-Career Faculty Award; and Dr. Martha Ann Keels, PhD, received the Practice Award. They were recognized at a reception hosted by the ADA Science & Research Institute on October 13 at the 2022 SmileCon annual meeting.
The awards recognize dental educators and clinicians for their contributions to evidence-based dentistry. Gilbert is a professor at the University of Alabama (UAB) at Birmingham School of Dentistry, chair of the UAB department of clinical and community sciences, and the founding director of the National Dental Practice-Based Research Network.
Scott is an associate professor in the office of research and graduate programs at the University of Missouri-Kansas City School of Dentistry. She is one of only a few biostatisticians in the U.S. with a primary appointment in a dental school. Scott has supported faculty members, postdoctoral fellows, residents, and students in conducting high-quality oral health research that has advanced the dental profession.
Keels is a full-time practicing dentist at Duke Street Pediatric Dentistry in Durham, NC, and a provider of general anesthesia services at nearby Duke Health. She also is an adjunct associate professor of pediatrics and associate consulting professor of surgery at Duke University Medical Center; an adjunct professor of pediatric dentistry at the University of North Carolina, Chapel Hill; and an adjunct associate professor of dentistry at the University of Rochester.