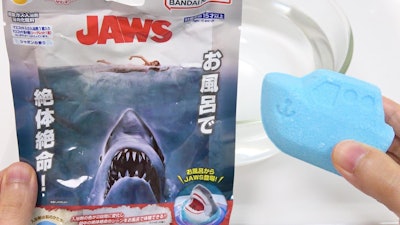 Is it still not safe to go back in the water, or maybe just the bathtub? A video of a boat-shaped bath bomb themed after the 1975 classic thriller flick, "Jaws" that melts away to reveal razor-sharp teeth is stunning the internet.
As the iconic "Jaws" music plays in the background, the video shows a blue ship-shaped bath bomb being placed into water. As it fizzes away, it turns the tub's water into what appears to be a bloody ocean. Ultimately, it reveals a great white shark with a jaw full of teeth.
The video, which has racked up more than 1 million views on Twitter, has left watchers delighted yet deflated. Currently, the bath bomb, which is from Japan, seems to be unavailable for purchase.
Watch the video below.