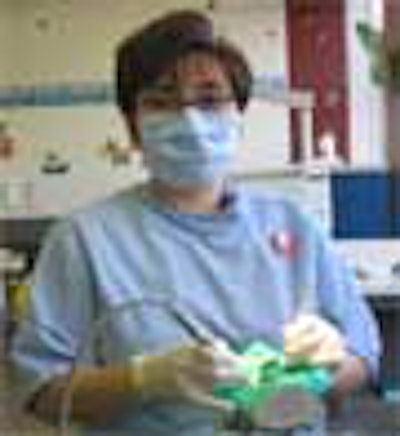 Can a high-school graduate with two years training do much of what a dentist does? Most dentists would say not. But the federal government is already assuming they can.
That's the source of conflict that led the American Dental Association (ADA) to sue the State of Alaska for allowing federally-certified Dental Health Aide Therapists to perform tooth extractions and restorations on Alaskan Natives. The ADA lost the suit, and as a result, dental therapists are fanning out across remote Alaskan villages performing procedures that were previously the exclusive province of dentists.
What happens in Alaska could affect dental care throughout the country. Although the dental therapists now practicing are limited to working with Alaskan Natives, already American Indian organizations in the lower 48 states are researching how they might bring dental therapists to their own communities. "Definitely we're interested in that possibility," says John Lewis, executive director of the Intertribal Council of Arizona. American Indians have similar needs to those of Native Alaskans, and he would like to see 50 to 100 therapists working in Arizona, he says. He added that the subject drew interest from representatives from around the country at a meeting on American Indian healthcare in October.
The Alaska Native Tribal Health Consortium (ANTHC), which oversees the Alaska program, would have been happy to put actual dentists in these villages, says Ron Nagel, D.D.S., M.P.H., who helped design the program. The problem is that there just weren't enough dentists willing to step in. "We have a 25 percent vacancy rate with our dentists," he says.
Meanwhile, Alaskan natives have more than double the rate of caries as the general U.S. population. Casting about for solutions, Dr. Nagel and his colleagues looked overseas where dental therapists in Canada, Great Britain, Singapore, Malaysia, and other parts of the world fill a role between dentist and hygienist.
Dr. Nagel and his colleagues were particularly impressed with the success of the New Zealand program, where the Maori people historically faced barriers to dental care similar to those encountered by Alaska natives. As evidence that New Zealand is doing a good job, he pointed out that children in that country have a much lower rate of caries than U.S. children. New Zealand children have no active dental disease by the time they finish school, he said. "When you look at our system, you can't name a school district in the [United States] that can make that claim."
So ANTHC sent the first three groups of students to the University of Otago, School of Dentistry in New Zealand, while designing an academic program at the University of Washington, where the next crop is now being trained. Ten therapists are now practicing in scattered villages around Alaska.
To qualify, candidates must have completed high school with good biology grades and passed the Test of Adult Basic Education. They undergo 2,400 hours of classroom training over two years, followed by 400 hours of apprenticeship under a dentist.
During the first year alone, the therapist students in New Zealand receive training in a wide range of topics including work methods (mirror positioning etc.), rubber dam use, fissure sealants, tooth sectioning, cutting exercises, preventive resin restoration, amalgam restorations, tooth-colored restorations, amalgam removal, local anesthesia, clinical examination, and clinical and radiographic diagnosis of caries. After passing exams in these areas, they were allowed to do field work in New Zealand.
"Auntie"
Aurora Johnson, an Alaskan native who was a stay-at-home mom when she heard about the opportunity, found the program challenging. She attended the University of Otago from 9 to 5, five days a week. Although ANTHC paid all of her school expenses, it didn't pay for the transportation and living expenses of her husband and their three children, now aged eight, 13, and 16. It also didn't pay for the kids' tuition -- thousands of dollars -- required even in public schools for immigrants to New Zealand. That meant Johnson's husband had to return to Alaska to work as a crabber and fisherman.
As soon as she graduated, Johnson returned to Alaska and plunged into work in Unalakleet, where she has lived for 20 years. "The kids here know me real well," she says. "A lot of them call me 'auntie'." I go into school every Friday to administer fluoride rinses. In the gym, everybody tries to hide their soft drinks behind their backs."
Soft drinks, in fact, are so popular in this part of Alaska, that when she flies to other villages she sometimes find herself accompanied by crates of them -- and fantasizes about pushing them out of the plane in midair. Teaching the kids healthier eating and dental hygiene habits makes up a big part of her job, as well as dispensing toothbrushes, which some families can't afford.
Dental therapists don't perform endodontics or prosthodontics, said Dr. Nagel. But they do simple extractions and restorations. These procedures -- and any others that can't be reversed -- worry the ADA. "We're concerned about the level of training that the dental health therapists receive," said William Prentice, director of the organization's Washington, D.C. office.
Dr. Nagel responds that the therapists work under the supervision of dentists, who sometimes observe procedures in person or remotely via video.
Others in the ADA have argued that plenty of dentists from other parts of the country are willing to volunteer in Alaska, but they have run into red tape that makes it too difficult.
But that argument doesn't explain why so many people in major U.S. cities go without proper dental care, says Dennis Mitchell, D.D.S., M.P.H., who studies disparities in dental care at Columbia University. "We're the only developed nation that can't address that. We have a lot of work to do."
Dr. Mitchell says he doesn't know if dental therapists are the best solution. And he doesn't blame dentists for the problem, or the government either, but rather a lack of will on the part of all parties concerned. "I believe this nation can solve almost anything it wants to," he said. "But we're not trying in a unified way."
In the meantime, Johnson is just glad to be of service. "I love my job," she says. "Whenever I can help people get out of pain, it's wonderful feeling."