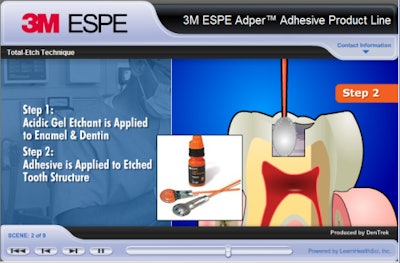 3M ESPE has launched Espertise Interactive Learning, a new Web site that offers free online training resources for dentists, hygienists, dental assistants, technicians, and office staff. The mix includes canned continuing education classes (for credit), tutorials on 3M dental products, and live interactive webcasts.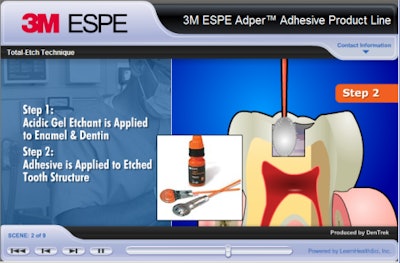 A tutorial on the use of 3M ESPE's Adper Adhesives
The seven CE classes currently available for dentists, RDHs, and DAs, cover making better impressions, anterior composite techniques, temporization, sealants, and other topics. Dentists and staffers can print personalized ADA CERP certificates immediately after completing one of these ADA CERP-accredited courses.
The nine product tutorials focus on 3M offerings such as Adper adhesives, restorative products (including Filtek flowable restoratives), cements, fiber posts, and more. The site doesn't have any interactive webcasts available yet. When it does, however, 3M notes that "leading industry clinicians" will run sessions like a virtual classroom, where you can ask questions and make comments in real time.
"3M ESPE is committed to providing groundbreaking ideas for dentistry and the resources that educate dentalprofessionals about these innovations," said Rob Gochoel, marketing supervisor, 3M ESPE in a press release. "Through archived CE courses, product tutorials, and live webcasts, Espertise Interactive Learning is a convenient way to provide knowledge and communicate useful information to dental professionals."
All content is free of charge. Dental staff can access this information simply by registering at the site.