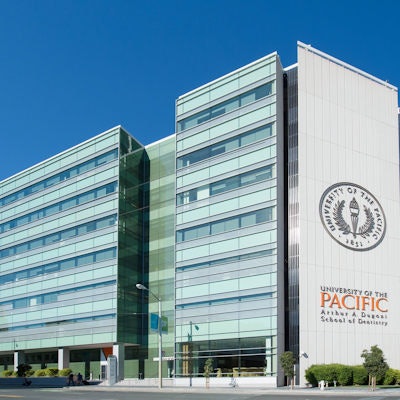 The University of the Pacific's Arthur A. Dugoni School of Dentistry has been awarded $350,000 to build a new ambulatory surgical center at its San Francisco campus.
The Oral and Maxillofacial Surgery SurgiCenter will initially serve more than 150 patients per year, which will increase as its care team expands. The center will increase access to patient populations, including children, older adults, and people with intellectual and development disabilities who require deep sedation and general anesthesia to facilitate their care.
The 1,800-sq-foot center will allow the school to expand its surgical services to include procedures that are typically done in hospitals, including outpatient jaw surgery, facial trauma repair, cranial nerve injury repair, management of benign and malignant pathology, complex reconstruction, sleep surgery, surgical orthodontic procedures, and temporomandibular joint surgery. It will feature a reception area, a preoperative consultation room, three operating rooms, a postanesthesia recovery unit, a pharmacy and dispensary, and a supply management area.
Oral surgery centers, such as this one, are rare in academic settings. Only a few are located on the East Coast, and there are none in Northern California, according to the school.
Initially, the center will be staffed by the department's full-time faculty, including Dr. Jesse Manton, a dental anesthesiologist, three oral and maxillofacial surgeons, a registered nurse, and surgical assistants. Dental students, residents, and interns will rotate through the center assisting with care.
Funding was provided by the Herbst Foundation, which provides capital funds for the construction or renovation of facilities of tax-exempt organizations within San Francisco.