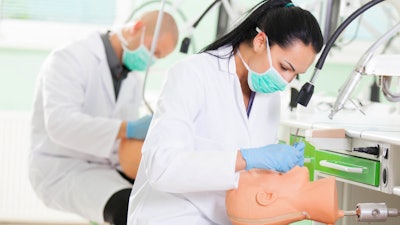 Though it may be several more weeks before the U.S. Supreme Court decides whether President Joe Biden can cancel up to $20,000 in student debt for some U.S. borrowers, some states offer loan forgiveness programs for dental professionals.
Legal experts expect the high court to decide on the plan by the end of June. If the plan can move forward, the U.S. Department of Education would cancel up to $20,000 in debt for Pell Grant recipients and up to $10,000 to non-Pell Grant recipients.
Borrowers can seek debt relief if their individual income is less than $125,000 or $250,000 for married couples, according to a White House fact sheet. The student loan-forgiveness program has been at a halt since two lawsuits were filed against the program.
Despite this setback, some borrowers have other options, according to GOBankingRates.com. The following states offer relief to dental professionals:
Alaska
Alaska offers the SHARP Program, which offers partial education loan repayment or a direct incentive to healthcare practitioners in the medical, dental, and behavioral health fields.
California
California offers two plans: the State Loan Repayment Program (SLRP) and the California Dental Association (CDA) Foundation Student Loan Repayment Grant. SLRP increases the number of primary care physicians, dentists, dental hygienists, physician assistants, nurse practitioners, certified nurse midwives, pharmacists, and mental/behavioral health providers practicing in federally designated health professional shortages areas within the state. The CDA Foundation awards grants to select recent dental school or specialty graduates.
Delaware
Delaware offers a SLRP that provides financial assistance up to $100,000 for verifiable educational loans to qualified dental, behavioral/mental health, and primary care professionals for a minimum of two consecutive years of full-time or half-time service in shortage areas across the state.
Indiana
The Indiana SLRP offers student loan repayment to health professionals to encourage the full-time delivery of primary care, mental, and dental healthcare services at practices located in designated health professional shortage areas in the state. Recipients can get up to $20,000 toward student loans in exchange for working in shortage areas for two years.
Maine
The Maine Dental Education Loan Program is a forgivable loan program for students in the state pursuing careers as dentists and planning to work there after graduation.
Maryland
While not part of GOBankingRates' summary, Maryland does have a repayment program for dentists that is intended to increase access to oral healthcare for patients who are part of the Maryland Medical Assistance Program. The Maryland Dent-Care Loan Assistance Repayment Program (MDC-LARP) for Dentists provides repayment assistance to dentists who treat vulnerable populations in the state.
Massachusetts
The Massachusetts Loan Repayment Program for Health Professionals offers loan repayment options for dental, medical, and mental health professionals.
Michigan
The Michigan State Loan Repayment Program helps employers recruit and retain primary medical, dental, and mental health providers by providing loan repayment to those who sign service obligations.
Minnesota
The Minnesota Rural Dental Therapists Loan Forgiveness program offers debt relief to participants who practice for at least 30 hours weekly and a duration of 45 weeks annually (a minimum of three years) in a designated rural area.
Missouri
The state's Health Professional Student Loan Repayment Program awards funds for educational loan repayment to Missouri-licensed practicing psychiatry, medical, and dental health professionals in exchange for services in healthcare shortage areas. Additionally, the PRIMO program awards funding to residents attending institutions in the state who are pursuing training leading to Missouri licensure as primary care doctors, dentists, dental hygienists, psychiatrists, and other mental health providers.
Nebraska
The Nebraska Student Loan Repayment programs offer loan repayment awards to primary care, mental, dental, and certain allied health professionals practicing in shortage areas in the state.
North Dakota
The North Dakota Dental Loan Repayment Program offers up to $100,000 over a five-year period for the repayment of dentist's education loans. To receive the funds, dentists must agree to accept medical assistance patients and assignments, work in a public health clinic, a nonprofit dental clinic, or at a practice focused on an underserved population in the state.
Ohio
The Ohio Dentist Loan Repayment Program is available to practicing dentists working in dental shortage areas. Also, the state's Primary Care Office coordinates various workforce programs to develop, recruit, and retain healthcare providers, including oral health providers to work in underserved communities. These programs include the National Health Service Corps scholarship and loan repayment programs and state loan repayment programs for providers, including primary care physicians, dentists, and dental hygienists.
Oklahoma
The Oklahoma Dental Loan Repayment Program offers educational loan repayment assistance for state-licensed dentists for two to five years, depending on funding availability.
Vermont
Vermont offers the Dental Educational Loan Repayment program for dentists, which aims to increase access to underserved communities.