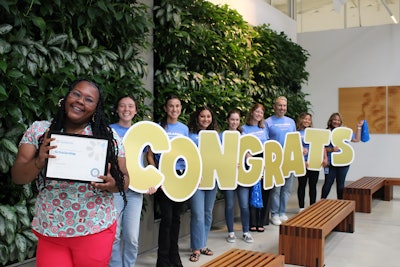 The foundation of dental service organization (DSO) Pacific Dental Services (PDS) announced that 18 dental assisting (DA) students will receive tuition assistance via the 2023 Dr. Carolyn Ghazal Dental Assistant Scholarship.
Collectively, the students will receive more than $70,000 to help cover tuition expenses. The scholarships are awarded based on applicants' financial need, heart for service, career aspirations, and other criteria, PDS said in a press release.
The following students are recipients of the scholarship:
Terrah Divens, Ivy Escareno, Paulina Fernandez, and Vanessa Morales of United Education Institute College


Martha Baez, Sophia Fair, Devyn Governale, Mario Munoz, and Victoria Orr of Concorde Career College


Faith Able and Rayna Panzer of the Milan Institute


Ariana Espinoza of the American Institute of Dental Assisting


Vrisa Piceno Espinoza of the American Career College


Jasmin Sanchez Hernandez of Unitek College


Kara Johnson of Chattanooga State Community College


Vitaliya Mikayelyan of Carrington College


Milena Vargas of the College of Healthcare Professions


Jeanine Weise of Herzing University
The application deadline for the next round of scholarships is November 1. Interested individuals can apply for the scholarship on the PDS Foundation website.