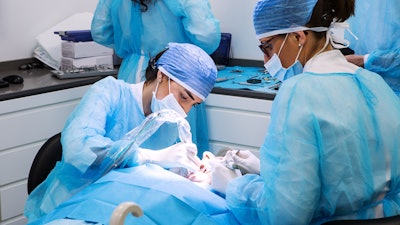 Aziyo Biologics, the company that supplied bone graft materials infected with tuberculosis (TB) that were used in three dozen dental and medical procedures and led to two patient deaths, has changed its name to Elutia.
Aziyo Biologics rebrands to Elutia
The Silver Spring, MD-based company rebranded to reflect its focus to develop and commercialize drug-eluting biomatrix technology, which pairs local drug delivery with biological materials. The name change was effective September 6, and it began trading on the Nasdaq Stock Market under new ticker symbol ELUT on September 7, according to a company press release dated September 6.
In July, Aziyo voluntarily recalled its bone graft products -- ViBone Moldable or alloOss Plus (lot No. TDS222820) -- after it learned of postsurgical TB infections in two patients after they were treated with viable bone matrix product from a single donor. Of the 36 people who received tainted bone grafts, five patients have become infected with tuberculosis, including two who died.
After the two deaths, including one which occurred in Michigan, U.S. Rep. Debbie Dingell (R-MI) called on the U.S. Food and Drug Administration and the U.S. Centers for Disease Control and Prevention, both of which are investigating the outbreak, to tighten bone tissue implantation regulations.
In a letter Dingell sent to the agencies in August, she noted that she was very concerned that Aziyo was dealing with TB-contaminated bone graft products for a second time. In 2021, Aziyo recalled another bone graft product that was linked to a large TB outbreak that affected 87 people and killed eight patients.
Moving ahead
The company's rebranding announcement makes no reference to bone grafts.
In 2024, the company plans to enhance its CanGaroo Envelope, which is used for the stabilization of implantable heart devices, including pacemakers, with the development of CanGaroo RM. The new product will contain the antibiotics rifampin and minocycline for sustained delivery directly to the surgical site. After this product launches, the company said it plans to expand into neurostimulator markets, including pain management.