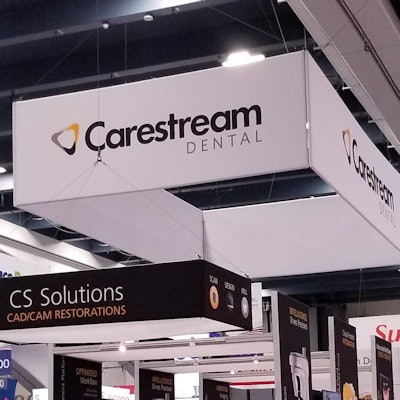 Carestream Dental has entered into an agreement to sell its intraoral scanning technology business to dental products company Envista Holdings Corporation for $600 million. The transaction includes Carestream's flagship CS3600, CS3700, and CS3800 intraoral scanner line and related software.
Both Caresteam and Envista praised the sale as a boon for their companies' future growth plans. Carestream will use proceeds from the sale to refocus its efforts on the dental cloud market and software as a service applications while Envista said the acquisition aligns with its long-term strategy to create differentiated solutions for digital dentistry workflows.
Caresteam and Envista anticipate the transaction to close around the start of the second quarter of 2022. The sale is subject to regulatory approvals. Additional terms of the sale were not disclosed.
Companies say deal will help future growth
Carestream's intraoral scanner unit had expected annual sales of approximately $60 million in 2021, according to Envista. Envista anticipates the intraoral scanner market will continue to remain as a high-growth, high-margin industry. Envista believes the acquisition will complement its equipment, consumables, and specialty products and technologies unit.
"We are excited to add a suite of world-class intraoral scanners and software to our portfolio," Amir Aghdaei, CEO of Envista, said. "This acquisition further enables our purpose of partnering with dental professionals to improve patients' lives by digitizing, personalizing, and democratizing dental care."
Carestream Dental CEO Lisa Ashby said Envista is a "great home" for the intraoral scanning technology as Carestream turns its focus toward artificial intelligence (AI) and other software technologies. Carestream will continue to operate its imaging technology, clinical software, and practice management software businesses, including Sensei Cloud and Swissmeda.
"This is an exciting time for Caresteam Dental and our customers," Ashby said. "We've had a multiyear investment plan in cloud solutions and technology, and this transaction allows us to better focus and accelerate our innovation in AI tools, clinical cloud applications, and cloud practice management."