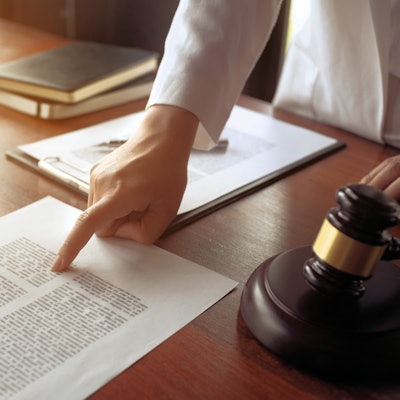 Your employee handbook is an important resource for you and your team, and it's most effective when it accurately reflects current laws and regulations. In the past, it might have seemed like a simple formality to keep up with frequent change requirements, but Families First Coronavirus Response Act violations can be expensive.
Regulations are often confusing and complicated, particularly when they often vary depending on where you're located and the services your practice provides. Regardless of the complexities of running a dental practice in California -- instead of, say, an optometry clinic in Ohio -- you must track changes and communicate with your team to ensure your 2022 employee handbook update is compliant.
New technologies could influence what your 2022 employee handbook says
Technology allows you to be more efficient, communicate better, and serve your dental patients more effectively in 2022. Those technological changes don't come without some growing pains, however. You may face training requirements and uncertainties about which tools you'll support and use in your practice.
Updating your employee handbook is the perfect opportunity to define which tools and technologies you and your team will use, the approved usage of those tools, and the training requirements. An all-in-one HR software solution should include an online documentation vault, HR advising and support, date/time stamps, and an electronic signature to confirm your employee's receipt of your updated handbook. Since these policies and procedures will directly affect employee roles and responsibilities, consider how they will affect your onboarding procedures and ongoing training requirements for your team.
Updating your handbook helps ensure fair, consistent treatment
Overtime rules and regulations have become more complicated, but you must adhere to these laws to maintain compliance. It's important to ensure that you're treating every employee in a fair and consistent way, in accordance with regulatory requirements. If you fail to comply with labor laws in states like California, you may face expensive penalties, depending on the infraction and the severity of your noncompliance.
Update your employee handbook to reflect all payroll policies and procedures. By communicating those changes to your employees, you're helping them better understand what to expect from your practice.
Establish legal protections for certain groups of employees
Laws regarding protected classes of employees change all the time, particularly as they relate to state and local claims. Here are a few laws and regulations currently in place to address incidents of harassment and discrimination:
The above are a few laws that prohibit unfair targeting or discrimination of employees. Some states, like Michigan, now include height and weight prohibitions. California law further prohibits discrimination based on hairstyle, marital status, or ancestry.
Communicate changes to your employees and independent contractors
Your employee handbook is your best resource for communicating changes to your policies and procedures, legal compliance issues, and changing expectations for your employees or independent contractors. Laws and regulations affect your dental practice and your team in diverse ways, but it's still important that you understand and clearly articulate how these policy changes will affect your team.
The consequences can be serious for your dental practice if you are not in compliance, but you also want to make it clear to your employees that you are following all state and federal regulations.
Your employee handbook is a legal document, and it should always be kept up to date and accurate. It should have an acknowledgment page requiring your employees to sign and return it to you. Your employee handbook should reflect the ever-changing needs of your practice, and you should also accurately represent the laws that govern employment practices in your state and local area.
As part of your efforts to help your employees better understand why your practice's employee handbook is so important, you should schedule a meeting with your team to answer all of their questions and make sure you're all on the same page. Some employees may not want to speak up in a public forum, so you should also offer the option that employees can speak with you one-on-one or ask their questions via an anonymous dropbox. Your goal is to proactively address misunderstandings, confusion, and concerns.
Conclusion
Your employee handbook is an important resource for you and your team, but it's only useful when you keep it up to date and communicate the latest updates with your team. Laws for your practice have changed. It's time to check your employee handbook to ensure you're compliant. Take the time to effectively communicate your 2022 employee handbook updates with your team.
Ali Oromchian, JD, is co-founder and CEO of HR for Health, a software as a service platform that provides web-based human resources solutions and advice for healthcare practice owners and managers. Oromchian is also a founding attorney of the Dental & Medical Counsel law firm and a leading legal authority on topics relevant for doctors.
The HR for Health 2022 state-by-state guidelines for updating your employee handbook, including a checklist, is available for download.
The comments and observations expressed herein do not necessarily reflect the opinions of DrBicuspid.com, nor should they be construed as an endorsement or admonishment of any particular idea, vendor, or organization.