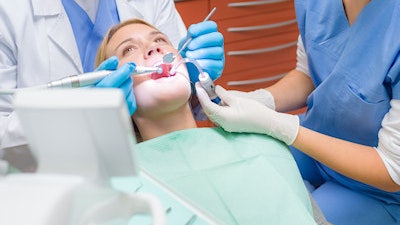 As the COVID-19 public health emergency nears its end, dentists should review workplace policies, remote work schedules, and expiring U.S. government-imposed requirements, according to a webinar held on March 23 by the Dental Trade Alliance's lobbying firm Polsinelli.
The COVID-19 public health emergency expires on May 11. To prepare, employers should communicate to employees that work policies related to COVID-19 screenings, vaccine mandates, safety protocols, and flexible work schedules may be coming. Dentists should also identify documents and communications that may need to be updated.
"Timely and accurately communicating information to participants is essential," Jamie Kwiatek, a shareholder at Polsinelli, said.
Masking policies, documents, and more
Employers may need to consider a few aspects before making changes to their masking, social distancing, contact tracing, and screening policies, said Gillian Bidgood, employment advice and investigations chair at Polsinelli. Before making changes, check whether your policies comply with state and local requirements. Also, weigh your workplace type, workforce, and the cost to maintain screening or other measures.
"Does the workplace have lots of interactions between employees and the public?" Bidgood asked. "Is the workforce comfortable with these measures? Think about costs, then make a decision."
Now is also the time to review documents that may need to be updated, according to Kwiatek. Documents to consider changing include the following:
Medical plan documents and summary plan descriptions of benefits plans
Wrap plans
Enrollment guides and benefit booklets
Other communications and policies posted on intranets, physical worksites, and social media
"The idea here is that you take a thorough look," Kwiatek said. "Did you offer an incentive for getting a vaccine? You may need to update that document. Communicate that changes are coming or may be coming."
Supporting employees who don't want to return to the workplace
During the COVID-19 pandemic, many workplaces went remote or implemented hybrid work schedules. Bidgood said employers should consider the following factors before continuing with remote or hybrid work schedules:
Compliance with applicable wage and hour laws
Reimbursement of work-related expenses
Safe remote workspaces
Privacy and data security
Written policies documenting the working arrangement
Companies must consider whether employees work in safe remote workspaces, since injuries sustained there can be compensable under workers' compensation laws, Bidgood said.
As employers have tried to transition from remote or hybrid work schedules to an in-office schedule, they have encountered resistance from workers who are not ready to return to workplaces, Lindsay Ryan, employment advice and investigations chair at Polsinelli, said. Under U.S. Occupational Safety and Health Administration regulations, employees can only refuse to return to the workplace if they reasonably believe they are in imminent danger of death or serious injury or due to the urgency of a situation, there is insufficient time to eliminate the danger, Ryan said.
"This danger cannot be a generalized fear," Ryan said. "Rather, it has to be a real and identifiable condition. Being afraid of contracting COVID-19 in the workplace isn't a real fear."
What about employees who are dealing with mental health issues and are hesitant to return to the workplace? Burnout has been a major problem within the dental community.
In August 2022, the first known U.S. survey to analyze the long-term mental health of dental professionals during the COVID-19 pandemic was published. Though dentists and hygienists frequently reported poor mental health during peaks of COVID-19 transmission, hygienists had higher rates of anxiety and depression, according to the study, which surveyed more than 8,900 dental professionals.
In this type of situation, employers can inform employees of what they are doing to keep them safe, Ryan said. If an employee has a qualifying mental health issue and comes to their employer with a doctor's note, employers may want to consider their limitations and what accommodations, like remote work, can be offered to successfully address their concerns, Ryan added.
"If your workplace is having a COVID-19 outbreak and it's ignoring all public health guidance, then an employee may have grounds to refuse," Ryan said.