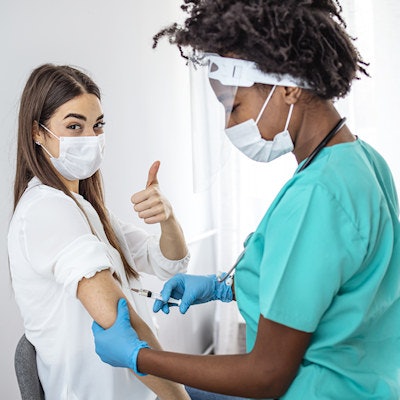 Oral healthcare professionals may help prevent HPV-related cancers by increasing HPV vaccination rates for patients, according to a study published on December 8 in the Journal of the American Dental Association.
"Oral health care professionals are well positioned to contribute to the prevention of human papillomavirus (HPV)-related oropharyngeal and other HPV-related cancers through engaging patients in conversations about HPV vaccination," wrote the study authors, led by Sharon M. Casey, MS, of Boston University.
Researchers analyzed barriers and facilitators to improve knowledge and discussion about HPV and determined the potential population that could be reached by conversations about HPV vaccination with an oral healthcare professional.
To gather data, researchers systematically searched four databases and the Behavioral Risk Factor Surveillance system 2018 data on the prevalence of HPV vaccination and dental visits among patients between the ages of 18 and 49. Twenty-four studies were included in the review.
While knowledge regarding HPV prevalence, transmission, disease processes, and risks varied, discussions related to HPV in dental settings were generally infrequent. Researchers speculate that it may be due to a lack of knowledge and communication skills among dental professionals.
"Behavioral Risk Factor Surveillance System data showed that most people who are not vaccinated have visited their oral health care providers in the past year, highlighting the potential role of oral health care providers regarding discussion of HPV and promoting awareness and acceptance of vaccination," Casey and colleagues wrote.
Despite limited knowledge about HPV, dental professionals generally reported a strong willingness to learn more about the relationship between HPV and outcomes, including oropharyngeal cancer.
Further, the review highlighted a need for education improvement among the general population about HPV and vaccination. More knowledge would aid in initiating these conversations, according to the study's authors, and dental organizations are well positioned to take the lead in raising awareness of HPV through empowering dental professionals.
"This review shows that improved guidelines and policy statements from leading dental organizations are crucial to support and encourage conversations that are often perceived as sensitive within dental settings," the study authors wrote.