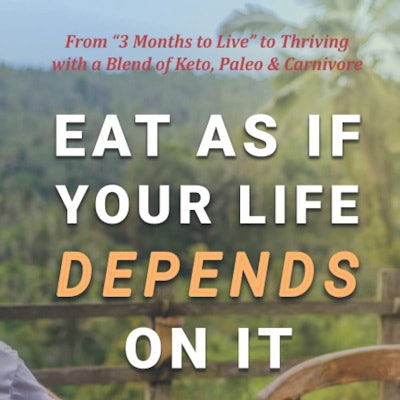 Dr. Alvin Danenberg's new book, Eat as if Your Life Depends on It!, launched on September 9. Danenberg highlights the prevalence of gingivitis and periodontitis in the U.S. and describes the importance of a robust immune system to prevent chronic diseases, including periodontal disease and dental decay.
DrBicuspid.com readers may be familiar with Danenberg's columns, which often explore the nuanced relationship between oral health and overall well-being. The book is an extension of his philosophy that a well-designed, nutrient-dense way of eating can create a healthy gut microbiome and support whole-body wellness.
While Danenberg believes his book is relevant to all healthcare professionals, including dentists, it hits particularly close to home for the author, who was diagnosed with multiple myeloma, an incurable form of cancer, in 2018.
In Eat as if Your Life Depends on It!, Danenberg shares the habits he has implemented since his cancer diagnosis, the research and reasoning behind his unconventional cancer protocols, and how his quality of life has changed as a result. Although Danenberg makes it clear that the strategies offered in the book do not offer a cure, he hopes they can create a solid foundation of health.
Below is a brief excerpt courtesy of Danenberg:
"In 2010, a published paper demonstrated that 93.9% of adults in the United States had some form of gum inflammation (gingivitis). In 2015, the Centers for Disease Control and Prevention (CDC) published their results in the Journal of Periodontology. It showed the prevalence of severe periodontal disease (periodontitis) was estimated to be 47.2% for American adults. For adults 65 years old and older, the prevalence jumped to 70.1%. The CDC reported that approximately 91% of U.S. adults aged 20-64 had dental caries in permanent teeth. The prevalence increases to 93% for those above 65 years old. These chronic diseases and disorders are directly correlated to how we eat as a society: the missing nutrients in our food, the poor absorption of these nutrients into our body, and various poor lifestyle choices."