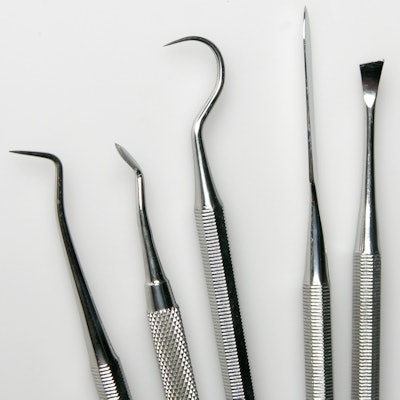 The Vermont Board of Dental Examiners has revoked the license of a dentist for using unsterilized instruments and also his history of "unprofessional conduct." His license is one of only nine that has been revoked in about 60 years, according to news reports.
The board revoked the license of William J. McDonald, DMD, on February 13 because he had a lengthy history of multiple adjudications of unprofessional conduct dating back to 2003. In the past, Dr. McDonald had been fined and required to take continuing education classes and an exam, which he failed the first time. The board had already suspended his license more than once.
The 77-year-old's most recent infraction stemmed from a patient report of unsanitary conditions at his practice in Woodstock. In October 2018, the patient visited the office to have a filling repaired and found that the dental operatory light and ceiling were "visibly soiled" and the dental instruments were in a "state of disarray," according to reports.
The board determined that Dr. McDonald, who was issued his first license in the state in 1980, didn't practice competently and performed unacceptable patient care. The clinician failed to heat sanitize handpieces after using them on patients, violating the U.S. Centers for Disease Control and Prevention's guidelines.
However, Dr. McDonald contended that his practice of cleaning instruments with chlorhexidine gluconate and then wiping them with a disinfectant were enough.
Past problems
In addition to the most recent lax infection-control practices, Dr. McDonald has been disciplined in the past for the following infractions:
Failing to properly sterilize equipment
Moving a trash can with a gloved hand, then putting that hand back into a patient's mouth
Failing to get proper patient consent before extracting a minor's tooth
Verbally abusing a patient
Discarding study models of patients' teeth
Failing to take x-rays before treating patients
Improper billing
Incomplete recordkeeping
Also, Dr. McDonald was convicted in 1987 of welfare fraud, which arose from him practicing dentistry, according to a 2015 board order.
The dentist's side
Dr. McDonald has said that his rocky past stems from him taking underserved patients, like those covered by Medicaid. He said most dentists in the area won't take Medicaid patients due to the low reimbursement rates for services. Also, he has called these patients "challenging" because they often visit when they have the most serious dental issues, and he doesn't have a chance to build up a rapport with them.
The clinician also believes he has been a target for the board because the profession is conservative, and he is very liberal. The board has noted in past orders that Dr. McDonald is "impetuous" and that his attitude makes him his own worst enemy, according to reports.
Dr. McDonald, who believes his license revocation was punishment for his "political liberalism," may appeal the board's decision.