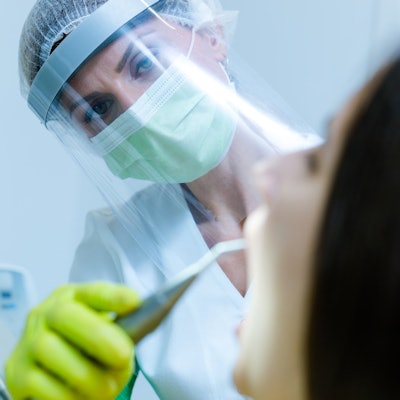 Some people who recover from an initial COVID-19 infection develop long-lasting symptoms, a syndrome known as long COVID. More providers, including dental professionals, need to better understand this condition, according to a study in the Journal of the American Dental Association.
Because long COVID can affect multiple organ systems, patients with the condition experience a variety of symptoms, including fatigue, respiratory difficulties, renal and hepatic impairments, and psychiatric complications. Both the symptoms and treatments, such as anticoagulant medications, may require patients to receive modified routine oral healthcare interventions, the authors noted.
"These patients are generally ambulatory and can be expected to appear in any oral health care setting. Given the wide and expanding prevalence of this condition, it is incumbent that all [oral healthcare providers] be familiar with and ready to treat patients with long COVID," wrote co-authors Drs. Katherine France and Michael Glick from the University of Pennsylvania (JADA, October 28, 2021).
France and Glick conducted a study to understand how oral healthcare is affected by long COVID and how professionals can treat individuals with the condition. They searched research databases for published information already available on long COVID, including a person's ability to achieve hemostasis and to respond to bacteria emanating from the oral cavity, as well as drug interactions and how well people cope with stress and response to tissue healing.
The authors found it hard to estimate how many people may have long COVID. Estimates range from 10% to 87% due to a lack of definition of the condition, and most cases occur in patients who were otherwise healthy and not hospitalized during the initial disease.
Patients with long COVID are at higher risk of developing a thromboembolism but may also have thrombocytopenia and decreased levels of fibrinogen. Approximately 44% have decreased quality of life, the authors reported.
However, there's still much the medical community doesn't know about long COVID. In addition to there being no true definition, the lack of widespread testing early in the pandemic means many people may have been infected with SARS-CoV-2 and subsequently developed long COVID without evidence of a positive COVID-19 test.
When it comes to providing oral healthcare for these patients, the authors advised reducing complications similar to treating patients with other types of medically complex conditions. This includes coordinating and collaborating with the patient's care team, including specialists.
"[Oral healthcare professionals] are encouraged to proceed cautiously with the treatment of patients with long COVID, with consideration for short appointments, adjustments to chair positioning, and other modifications that will allow these patients to withstand treatment despite their functional limitations," France and Glick wrote.