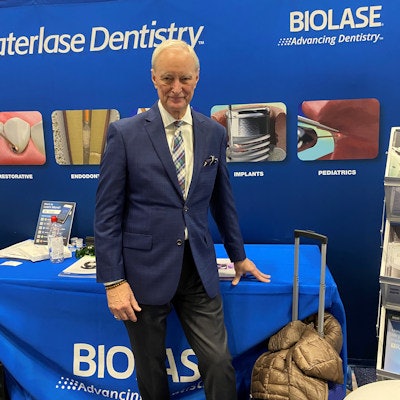 U.S. dentists continue to deal with a workforce shortage, inflation, and growing fears of recession. As they continue to balance it all, Dr. Samuel Low spoke to DrBicuspid.com at the 2022 Greater New York Dental Meeting about what dentists can do to survive in 2023.
Adopting new technology, standing out among other practices, and shifting responsibilities are the keys to thriving now and in the future, Low said, a periodontist and Biolase's vice president of clinical strategic alliances.
"In 2023, be better businesspeople," he said. "Be proactive instead of reactive ... make ourselves more competitive," he said.
To deal with staffing issues, Low said some dentists, specifically those in heavily populated areas, have resorted to doing their own dental hygiene work. In October, the ADA's Health Policy Institute reported that dentistry was facing a troubling workforce shortage that was expected to get worse before it gets better. In any month, 4 out of 10 dental practices are hiring dental hygienists.
"In higher density areas, the shortage is critical," Low said. "Some have no hygienist."
Depending on the location, dentists can make as much as a hygienist as they would as a dental associate, Low said.
However, Low encouraged dentists to adopt the assisted hygiene model at their practices. Having an auxiliary set up operatories before and after a patient, review medical histories, give oral hygiene instructions, and more allows hygienists to see more patients.
"If you have two hygienists and one leaves, use the second operatory for assisted hygiene," he explained.
Additionally, dentists can set themselves apart from their competition by adopting technology, like dental lasers. Lasers can be used to correct gummy smiles, whiten teeth, bleach gums, and lengthen crowns. When a laser is used, these procedures take less time and are nearly painless for patients, Low explained.
"Dentists need sustainability and new patients," he said. "Without those things, sorry, it's not going to happen. We need to become more competitive."
In addition to offering less invasive procedures, Low said dental practices should aim to improve the patient experience.
"People don't want to see you," he said. "Dental offices should be made to look like a spa -- more comfortable, approachable."