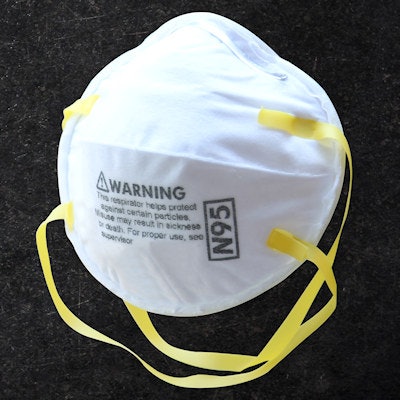 Oral and maxillofacial surgeons are experiencing orofacial pain, including temporomandibular disorders (TMDs), related to the ongoing use of N95 filtering facepiece respirators and masks. The perspective was published on December 1 in the Journal of Oral and Maxillofacial Surgery.
Mask-associated orofacial pain should be investigated for proper management and prevention. In addition, personal protective equipment makers should develop personalized masks for different face shapes, the authors wrote.
"While there are no data on the incidence of orofacial pain and TMD related to mask-wearing prior to the COVID-19 pandemic, with the current prolonged and frequent use of N95 respirators especially, orofacial pain associated with masks should be a topic of discussion considering its clinical relevance," wrote the authors, led by Dr. Chenyu Sun, an attending physician at AMITA Health Saint Joseph Hospital in Chicago.
This isn't the first time that concerns have been raised about prolonged mask use among healthcare workers. In July 2021, a study published in the British Journal of Oral and Maxillofacial Surgery revealed that continuous wear of N95 respirators reduced blood oxygen saturation levels and increased the heart rates of dentists and dental assistants. Though these health changes were noted, they were within the range considered to be healthy.
Additionally, another study showed that dental students and dentists wearing N95 masks during work reported an increase in TMD symptoms and parafunctional movements, including repetitive mouth opening and closing and tooth grinding and clenching, compared to when they weren't wearing masks, the authors wrote.
Unfortunately, there isn't enough known about how wearing a mask may contribute to TMDs and orofacial pain. In the meantime, mask and respirator manufacturers should consider designing custom masks for those with varying mandibular shapes and nasal bridge heights to decrease how frequently wearers adjust masks with repetitive jaw motions, the authors wrote.
"(Additionally), there needs to be more studies to address the pathophysiology of mask-related TMD and to develop preventive measures aimed at protecting the 59 million healthcare workers, including oral and maxillofacial surgeons who wear masks for long hours on a daily basis," Sun and colleagues wrote.