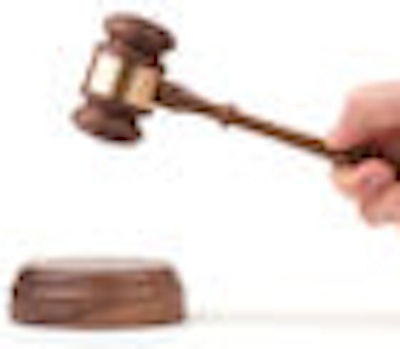 Going once, going twice, sold! A new implant for $999 to the patient with the missing second molar.
That's more or less the vision behind PriceDoc and FairCareMD, two new websites where patients can bid what they want to pay for dental and medical services and pick the best offer from competing practices.
"It puts great pricing pressure on dentists."
— Richard Geller
The services are actively marketing to dentists. "We believe the strongest area for PriceDoc is dentistry," said Patrick Bradley, president of PriceDoc. "It's by far our largest category."
That's because so many people don't have dental insurance, or have insurance that only covers a small portion of the procedures they need.
The new sites add to a trend toward greater transparency in the market for dental services, said Richard Geller, a dental marketing consultant and DrBicuspid.com columnist. "It levels the playing field," he said. "It puts great pricing pressure on dentists."
Services such as Yelp, where patients critique and rate dentists, and social media such as Facebook already are giving patients more information about what services they can get. It won't be long before these social media sites also begin including information about pricing, Geller said.
He believes that dentists must either get on board with this trend or be left at the station. "The dentist who survives is going to be one who embraces this very aggressively. People who don't have a dentist are going to sites like this."
How it works
To participate in PriceDoc, dentists pay $37.95 to $59.95 a month. The longer you commit to participating, the lower the monthly cost. And if you want your listing placed higher, you pay more. FairCareMD charges a flat $30 a month.
On PriceDoc, dentists don't auction off their services in real-time. Instead, they choose which procedures they want to offer through the site and decide in advance what they will charge and whether they will impose conditions, such as a subscription to a discount plan.
Patients also have options. They can enter a price in a "name your price" box and see if any practices have agreed beforehand to charge that much or less. Or they can simply browse a list of nearby dentists offering various discounts.
FairCareMD does not ask the patient for a bid. Patients enter the procedure they want, then see a list of doctors offering the procedure and the prices the doctors charge.
A recent search on PriceDoc in the ZIP code of DrBicuspid.com's editorial office for "crown-cap" turned up no practices willing to participate in the "name your price" feature at any price. And the list of dentists offering discounts were all in suburbs at least 25 miles away. One offered a coupon for a porcelain-fused-to-metal crown at $495, redeemable only if the patient signs up for the practice's dental plan at an annual cost of $96 for an individual.
Another practice offered a 5% discount coupon, and two more displayed buttons that said "request your cash price." Pressing one of these buttons elicited a call from a woman at a dental practice who said crowns there would range from $495 to $1,100, depending on the material used.
Bradley acknowledged that the pickings are slim for patients in areas such as San Francisco, where not many practices have signed up so far. But in the Seattle area, where the company is based, the "name your price" feature works more often, and that will be true for other areas as the service gains members, he said.
FairCareMD, based in New York City, is also short of doctors. Alex Fair, founder of the company, said his staff will make phone calls on behalf of patients to find doctors until more are registered with the site.
Does it bring in patients?
But PriceDoc has already signed up some big clients. "We're excited," said Chris Smith, marketing director of Southwest Dental Group, which has nine general dentistry and 12 specialist practices in the Phoenix and Tucson, AZ, areas. "I believe it will be a very good service."
About 110 new patients printed coupons for Southwest from PriceDoc in a six-month period. Few of these actually came in for appointments, but the conversion rate is likely to be higher now because Southwest has assigned staff to follow up with phone calls, Smith said. Like many other PriceDoc practices, Southwest offers a discount plan of $68 a year for people younger than 62 years old. They can get crowns ranging from $723 for full-cast metal to $850 for Cerec porcelain.
PriceDoc is particularly marketing its services to new dentists who are looking to build a practice, Bradley said. But he thinks it's valuable for any dentist with empty chairs. "If you have time when you're sitting around twiddling your thumbs, then why not take a cash patient?" he said. "You can set the number of patients you want to take at the reduced price."
PriceDoc recently announced that it has obtained a patent on the idea of bidding for dental and medical services. Fair said, "I try to stay out of their space," and argued that FairCareMD, which launched June 7, is different because it puts more emphasis on gathering information on both patients and practitioners. For example, you can link your FairCareMD profile to your profile on Facebook.
This isn't the first trial of the bidding-for-services concept. David Puffer, who founded bidforsurgery.com in 1995, said he and his partner decided to let the site "lie fallow" after finding the associated headaches overwhelming. The business model was hard to work out, very few patients were willing to pay for the service, and charging patients could violate laws against fee splitting, he said. So the site sustained itself with pharmaceutical ads.
Practitioners were also hard to attract. "Surprisingly, dentists were the least receptive to it," Puffer said, perhaps because they feared patients who might "nickel-and-dime" them.
In reality, very few patients who participated were price-conscious, he said. Instead, they were concerned about credentials, and that made a lot of work for Puffer and his partner. "We had to search court records, look for state sanctions, check if they had privileges, see if they had board certification. To get the credentialing for dentists was going to be more expensive than we wanted to pay," he said.
But perhaps bidforsurgery.com was just ahead of its time. Puffer said that because the site was founded in 1995, he believes this would invalidate the PriceDoc patent if it ever came to a legal fight.
What would have happened if he had launched a decade later? We may soon find out.
Copyright © 2010 DrBicuspid.com