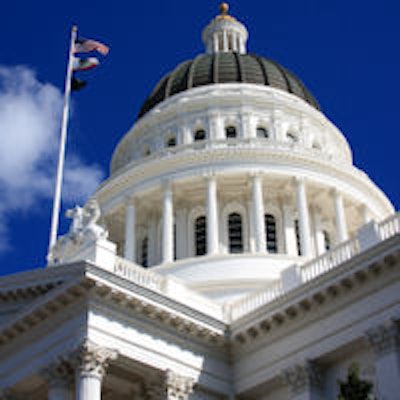 Oral health advocates are lauding California's new law expanding the Virtual Dental Home (VDH), a program that uses telehealth technology to bring dental services directly to patients in community settings, such as schools and nursing homes.
Gov. Jerry Brown signed AB 1174 by Assemblymember Raul Bocanegra (D-Pacoima) on September 29. The bill was the outgrowth of a demonstration project established in 2010 by Paul Glassman, DDS, MBA, director of the Arthur A. Dugoni School of Dentistry's Pacific Center for Special Care in San Francisco. It was operated by the dental school and featured nine teams delivering care to more than 40 rural, inner city, and suburban sites across California.
The law expands the scope of practice for dental hygienists and assistants, and provides payment for telehealth-enabled dental services under California's Medicaid program. The innovative program uses dental hygienists to screen for patients. The data are then sent electronically to dentists at clinics or offices who advise the hygienists which preventive and routine restorative care should be done. The services provided include cleanings, sealants, fluoride, x-rays, chart preparation, oral hygiene instruction, nutritional counseling, and placement of interim therapeutic restorations.
Patients requiring more complex care are referred to dentists who review the records before an office visit. In addition to the cost savings from preventive and routine care provided by hygienists, the program also spares patients and their families the time and expense of traveling to an office, unless further care is needed.
Gov. Brown predicts that more than 11 million people will be eligible for Medicaid in 2015. Currently, less than half receive any dental services.
More than 30% of Californians cannot get needed oral care through the traditional dental care system, according to the Dugoni School of Dentistry. About 54% of the state's Medicaid-eligible children received no dental care in 2012 and even fewer received preventive care services.
"We believe that with the passage of this bill and with training and support of interested providers and community organizations, we can bring dental services to literally millions of people in California who are not receiving these services now," Dr. Glassman told DrBicuspid.com. "Doing so will not only reduce pain and suffering of people who are going without care, but it will reduce the expensive costs of neglect when dental disease is allowed to progress to the point where children don't learn in school because of toothaches, and people end up in the hospital emergency room or operating room."
Coalition of supporters
A recent study from the Pew Charitable Trusts published in June examined how the VDH worked at an elementary school in Sacramento, CA, where the program provided cost-effective services to low-income children who did not have a regular source of dental care.
The report, "Expanding the Dental Team: Increasing Access to Care in Public Settings," examined three nonprofit settings where midlevel providers (MLPs) work as part of larger dental teams. The study also showed how dental therapists in Minnesota and rural Alaska are helping nonprofit clinics stretch dollars to serve more low-income patients.
VDH pilot programs are already improving access to care at dozens of sites throughout the state, said Shelly Gehshan, who directs children's dental policy for Pew. "The state's action will allow the program to grow and serve even more people who are going without care," she said in a statement.
The California Dental Association (CDA), one of the bill's supporters, also hailed the new law.
"The Virtual Dental Home is an excellent example of utilizing highly trained dental team members under the direction of a dentist, supported by technology, to increase access to dental care in a cost-effective way," CDA President James Stephens, DDS, said in a statement.
The California Dental Hygienists' Association (CDHA) noted that the law will provide oral care for people who cannot easily get to a dentist's office.
"Hygienists with additional licensure are serving developmentally disabled patients at home, as well as patients in skilled nursing facilities, residential homes, and in schools," CHDA President Karine Strickland, RDHAP, said in a statement.
Wendy Lazarus, founder and co-president of the Children's Partnership, noted that caries remains the largest unmet children's health need in California today.
"This is a huge victory for California's children and children across the nation," Lazarus said in a statement. "By combining workforce innovations with advances in technology, California is now one step closer to closing the dental care gap kids face and reducing the number of children who miss school or are distracted by pain resulting from the number one chronic health problem among children -- dental disease."
Are there enough dentists?
However, Jay Friedman, DDS, a former dental researcher at the University of California, Los Angeles, and an advocate of MLPs, argued that there aren't enough dentists to provide needed treatment beyond what can be performed by dental hygienists and assistants.
The CDA estimates that more than 6.3 million California children, or two-thirds of all children in the state, suffer from poor oral health by the time they reach the third grade, Dr. Friedman noted. Experience with the experimental VDH project indicates that half of these children need to see a dentist for treatment, he said.
Dr. Friedman calculated that about 6,100 dentists would have to be available to serve children and adults on Medicaid.
"Thus, it is a virtual impossibility for the Virtual Dental Home to serve the underserved to any significant degree so long as it is ultimately dentist-centered," Dr. Friedman told DrBicuspid.com.