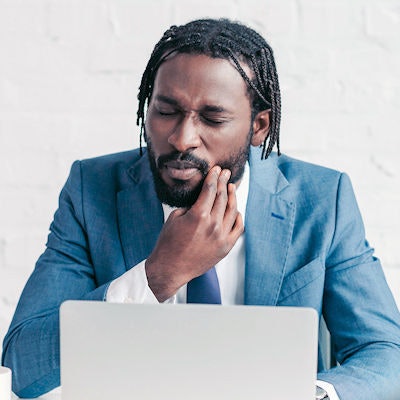 People with orofacial pain experienced higher levels of depression, anxiety, and psychological distress during the COVID-19 pandemic, according to a study published recently in Dental and Medical Problems.
Approximately half of those with orofacial pain experienced symptoms that were representative of a severe psychological disorder, while only about one-third of those without pain experienced that level of psychological distress. People with orofacial pain should be targets for intervention, the authors wrote.
"It is of utmost importance to identify and treat groups susceptible to psychological problems during the coronavirus disease 2019 (COVID-19) pandemic," wrote the group, led by Maryam Saki, PhD, of the Health Policy Research Center at Shiraz University of Medical Sciences in Iran (Dent Med Probl, January-March 2021, Vol. 58:1, pp. 17-25).
Orofacial pain is often attributed to temporomandibular joint pain and tooth and jaw disorders, and it is one of the most common causes of chronic pain. Evidence has suggested that psychological distress coexists with chronic pain and that being exposed to pain may make depression worse. Therefore, the authors suspected that those with oral or facial pain may have experienced more stress, anxiety, and depression during COVID-19 lockdowns.
To compare the psychological health of those with and without orofacial pain, the researchers asked 509 people between the ages of 19 and 39 to fill out an online questionnaire about their background, attitudes, perceptions, and concerns related to mental health during the pandemic. Of the participants, 397 had no oral or facial pain, and the remaining 112 had been diagnosed with orofacial pain.
A review of the data showed that individuals with orofacial pain scored higher in depression, anxiety, and psychological distress than pain-free individuals based on the Kessler Psychological Distress Scale, which measures a person's emotional state. A greater percentage of patients with orofacial pain reported experiencing levels of "moderate" and "severe" disorder than those without pain, the authors wrote.
Frequency of mental distress in those with and without pain
Severity of psychological distress
Percentage of patients with orofacial pain
Percentage of patients without orofacial pain
Well
23%
40%
Mild disorder
12%
16%
Moderate disorder
20%
15%
Severe disorder
45%
29%
Though the results are considered strong due to the large number of participants, the study had some limitations, according to the authors. For example, limited research is available for comparison because the COVID-19 pandemic is a relatively new phenomenon.
Nevertheless, "this higher level of anxiety and depressive symptoms in individuals with [orofacial pain] suggests that people with a history of pain experience would be possibly the main targets of psychiatric assessment and care," Saki and colleagues concluded.