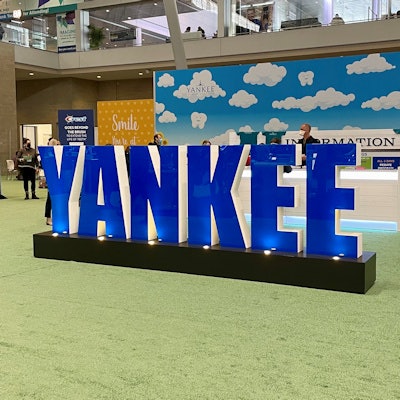 Dental professionals already had greater mental health and stress-related medical vulnerabilities than other healthcare professionals. Then the COVID-19 pandemic hit and amplified the risks, according to a presenter at the 2022 Yankee Dental Congress in Boston.
Sarah Allen Benton, a therapist and co-owner of Benton Behavioral Health Consulting, warned that dental professionals who ignore their burnout, addiction, and mental health problems may face numerous short- and long-term consequences. People who are not feeling their best physically and mentally are more prone to medical errors, a decreased quality of life, and lower job satisfaction.
"The additional mental health and medical issues that have increased as downstream effects of the pandemic are having a heavier impact on dentists," Benton said.
Prior to the pandemic, dentists faced more personal challenges than colleagues in other fields and the public. For example, the suicide rate of dentists is more than twice the rate of the general population and almost three times the rate of other white-collar workers, according to Benton.
Furthermore, emotional illness ranks third in order of frequency of health problems among dentists; in the general population, emotional illness ranks 10th in frequency. Dentists also experience mental health disorders at a rate 2.5 times greater than other doctors, she added.
These background statistics are notable because studies have shown the COVID-19 pandemic is taking a greater toll on essential workers, including dental professionals. Specifically, 42% of essential workers experienced anxiety and depression, compared with 30% of nonessential employees, according to data cited by Benton.
To cope with stress, 24% essential workers increased their substance use, while only 11% of nonessential workers did. More essential workers (22%) than nonessential workers (8%) have also considered suicide in the past 30 days. These statistics may be influenced by the loneliness of the pandemic, she noted.
"The pandemic has been a crisis of loneliness, and many dentists work in solo practices and feel a sense of isolation regularly, which has been magnified," Benton added.
Additionally, dentists continue to deal with financial losses stemming from the lockdowns that occurred in 2020. The financial factors led to "pressure to increase patient load, extended work hours, lack of resting time, adapting to changing government mandates/regulations, life changes at home, childcare/school issues, and ongoing fear of COVID-19 exposure/transmission due to close proximity to patients," she said.
If dentists don't get help for their burnout, addictions, or mental health issues, they stand to lose a lot. Professionals who do not get treated may face career limits, a lack of job satisfaction, and decreased workplace morale, and they may make more medical errors. Also, forgoing treatment can lead to physical injuries and negatively affect relationships, Benton said.
"If they are self-medicating with substances to treat underlying stress and physical and mental health issues, it can compound the issue and worsen symptoms, as well as consequences," she stressed.
Fortunately, there are many healthy and proactive coping strategies to deal with such challenges, including seeking professional mental health support, consulting regularly with colleagues, acknowledging personal limitations, and connecting with professional networks. Also, it can be helpful to focus on physical health and create a better work-home balance, Benton said.
Dentists can also take steps to create a healthier work environment for the entire dental team. For example, they can promote a culture of self-care, show willingness to make staff and task changes, talk about stress and burnout directly, and decrease the stigma around mental health and addiction treatment issues, she said.
"Ideally, dental schools would be teaching about physical and psychological burnout, addiction, and mental health issues, as well as self-care and health coping strategies," Benton added.