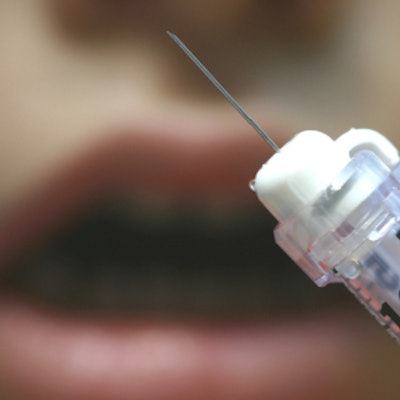 While a robust armamentarium is available for dentists to effectively administer anesthesia, the key to success is finding the right balance in the use of its tools and techniques, according to a recent DrBicuspid.com webinar.
Success with anesthetics is achieved when a patient has adequate anesthesia so they are comfortable throughout the entire duration of the procedure, said Dr. Alan Budenz of the University of the Pacific Arthur A. Dugoni School of Dentistry in San Francisco. He and colleague Dr. Bernadette Fa shared the latest techniques and technologies in a webinar on December 13 about how to get patients numb to avoid those "Wait, I still feel that!" situations.
"That is going to depend on what the procedure is, how long it is going to take, how invasive it is, and the nature of the patient," Budenz said during the webinar sponsored by Balanced Pharma.
There are five amide anesthetics approved by the U.S. Food and Drug Administration for plain use or use with a vasoconstrictor (lidocaine, mepivacaine, prilocaine, articaine, and bupivacaine) and two primary injection techniques, short-acting infiltrations for localized areas and regional (nerve) blocks, which cover larger surface areas and last longer.
"Different amide anesthetic agents do not all work the same with all techniques, nor do they all work the same in every person​," Budenz noted.
Combining anesthetics with techniques
For instance, the use of lidocaine (2%), mepivacaine (2%), prilocaine (4%), and articaine (4%) with a vasoconstrictor may offer up to an hour of pulpal anesthesia with infiltration injections. Block injections increase these durations.
"Essentially, we're doubling the duration of pulpal anesthesia using a block injection technique versus an infiltration technique," Budenz said.
Specifically, when mepivacaine is delivered as a block injection, pulpal anesthesia of up to five hours can be achieved, and an even longer duration in soft tissue.
However, the "right" volume depends on many variables​, Budenz said. For infiltration injections, one-half to three-quarters of a cartridge is generally ideal for adults, while one-third is adequate for children, he said. For inferior alveolar nerve blocks, less than one-half of a cartridge tends to be ineffective. For these injections, Budenz said that three-fourths of a cartridge for adults and two-thirds for kids is ideal.
"We can customize our delivery of anesthetic for how long a duration we need for the given procedure and perhaps per patient as well," he said.
The use of an additional cartridge may increase the depth of the anesthesia and decrease onset time, Budenz noted.
"I give the injection and wait five minutes. The patient will be feeling some signs of anesthesia. If they are not, I missed, so I think, 'Where do I want to go a little differently with the second injection?' If the patient is experiencing numbness in their lip or tongue, I go ahead and give a second cartridge. That will increase my onset time and increase the success of my anesthesia."
Budenz also emphasized the importance of noting first experiences in patient records so that approaches can be customized for each patient.
Strategies to avoid mistakes and complications
The key to avoiding mistakes and complications is communication, Fa said. If a patient tells you before you perform anesthesia that they've had past struggles or previous experiences getting numb, you need to listen, she said.
"Patients may not understand what numb actually feels like," Fa said.
A patient might say, "I'm not numb, I'm not numb," but it may turn out that they don't like hearing the drill, or they hear the instruments you are using, she said.
"So you have to be able to communicate with the patient to make sure that you're listening and they know that you're hearing what they're saying," she said.
As far as patients' fear of needles, Fa recommended using extra short needles for infiltrations but noted that 27 or 25 gauge long needles should be used for mandibular block injections, as short ones can break during the procedure.
Among the armamentarium are several products designed to improve patient comfort, Fa said.
One such product is the DentalVibe, a separate rechargeable cordless system for use during injections. The tool addresses the Gate Control Theory of Pain in which a nonpainful stimulus is used to close the nerve "gate" to painful input, thus preventing pain sensations from traveling to the central nervous system, she said.
Fa said she used the tool on a patient once who asked, "'Are we gonna do this anytime soon?' and I said, 'I just gave you your injection,'" she said.
Although the concept is not new, several new buffering products have been recently introduced (Anutra Medical's buffering system and OnPharma's Onset Buffering Pen) that can help improve patient comfort, Fa said. Essentially, what these tools do is introduce sodium bicarbonate into the anesthetic so that it is more easily introduced.
"It helps to change the pH of our anesthetic so that you go from an acidic pH to a neutralized pH. So then when it actually is delivered into the tissue, our bodies are able to accept it a little bit more," she said.
Take your time
Ultimately, Fa said taking time to administer anesthesia and watching patients for cues that they are tensing up is crucial. "We as providers need to make sure that we're watching, or at least have assistance available and present to give us a warning," she said.
If you notice nonverbal signs that a patient is tense, it's OK to slow down and say, "Hey, Mr. Jones, are you doing OK right now?' You want to acknowledge that they're actually feeling a little fearful but also give them tips, like maybe consider deep breathing," Fa said.
"Be mindful of listening and paying attention to how the patient reacts before you even get started," she concluded.