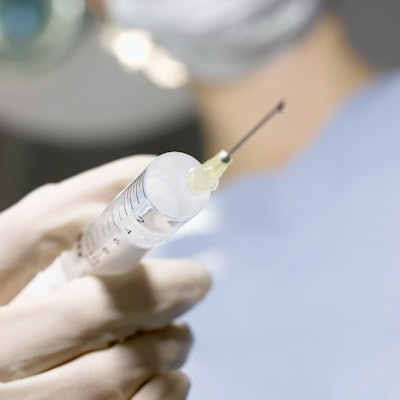 Supplemental regional anesthesia may reduce opioid use in patients following microvascular free flap reconstruction of the oral cavity, according to a study published in the Journal of Oral and Maxillofacial Surgery. Also, regional anesthesia was not associated with adverse events or more days in the hospital.
The study represents the largest prospective analysis of regional anesthesia and opioid use following oral cavity free flap reconstruction, the authors wrote. In addition to this being a large prospective analysis, this is only the second study that shows the safety and efficacy of regional anesthesia following a major surgical procedure in the head and neck in which tissue was taken from multiple donor sites, including the radial forearm and fibula.
"Supplemental regional anesthesia at the donor site for patients undergoing free flap reconstruction of composite oral cavity defects is safe and leads to decreased opioid consumption," wrote the authors, led by Dr. John Le, an oral and maxillofacial surgical resident at the University of Alabama at Birmingham (J Maxillofac Surg, November 1, 2022).
Better pain management
In the early postoperative period following colorectal, orthopedic, and thoracic surgeries, regional anesthesia has been shown to effectively control acute pain and reduce opioid use. However, this has not been demonstrated in major head and neck surgery.
To investigate whether supplemental regional anesthesia lessens opioid use following microvascular free flap oral cavity reconstruction, a randomized clinical trial was conducted involving 98 patients undergoing oral cavity reconstruction using microvascular free tissue transfer between January 2020 and March 2022. About half of the patients were men, and the mean age was 56, according to the study.
Of the patients, 48 received presurgical regional anesthetic nerve blocks at the flap donor site. The nerve blocks were administered in the areas where each specific patient's tissue was transferred. The remaining 50 patients were the control group. Outcomes were assessed via opioid use, which was measured in oral morphine equivalent (OME), from days one to five following the procedure, as well as the length of hospital stay, the authors wrote.
The patients who received regional anesthesia at donor sites used significantly fewer opioids compared to the control group (166.32 vs. 118.43 OME, 95% confidence interval [CI] 1.32 to 94.45, p = 0.04) in the first five days postoperatively, they wrote.
In terms of length of stay in the hospital, the time was comparable in the control group and in those who received regional anesthetic (6.60 days vs. 6.48 days, 95% CI -0.53 to 0.77, p = 0.71). Overall, patients experienced no adverse events that correlated with the regional nerve block, the authors wrote.
More to learn
Limitations to the study include that pain was measured at any time point at the oral cavity, neck, and extremity donor surgical sites. Pain assessment at each site was not recorded separately, they wrote.
Continuously administering local anesthesia at the recipient and donor sites may be challenging, but it may clarify the true effect of supplemental regional nerve block on opioid use after surgery. Therefore, more multi-institutional prospective randomized controlled trials should be conducted to validate and strengthen these findings, the authors wrote.
"Overall, our study results validate the existing literature and further support the benefits of supplemental regional anesthesia in reducing opioid utilization and pain control following free flap reconstruction of the head and neck," Le and colleagues concluded.