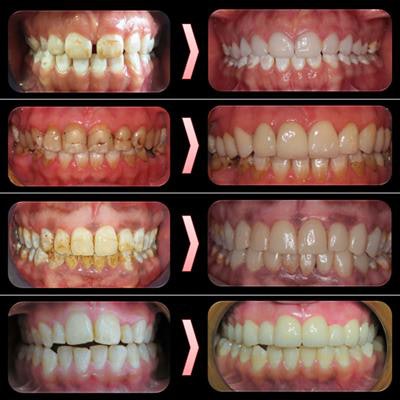 Ceramic veneers are minimally invasive, preserve tooth structure, and provide long-term aesthetic rehabilitation and, therefore, may be a better option than crowns for patients with fluorosis, according to a study published on February 17 in BMC Oral Health.
Fluorosis can cause white lines and blurred areas on teeth, as well as more severe staining and pitting. When treating generalized fluorosis with tooth surface defects, unsupported and pitted enamel or dentin tissue needs to be removed and then restored. In the new study, ceramics laminates showed long-term success in restoring the smile of patients with advanced fluorosis.
"The results of this clinical study should encourage clinicians to consider ceramic veneers over crown restorations when restoring the smile of patients with advanced fluorosis," wrote Drs. Zeynep Demirekin and Suha Turkaslan from the Suleyman Demirel University Faculty of Dentistry in Isparta, Turkey.
For about three decades, porcelain laminate veneers have been a good option for restoring anterior teeth due to biocompatibility, durability, and aesthetic appeal. Currently, veneers are reserved mostly to improve tooth form and position, hide tooth discoloration, and restore teeth with erosion or incisor wear. Veneers are a good alternative to crown restorations because they are minimally invasive, the authors noted.
To evaluate the success rate and estimated survival of porcelain laminate veneers in teeth with anterior fluorosis, the researchers conducted a retrospective study of 358 veneers. The veneers covered the incisal edge and part of the palatal/lingual side of the tooth with a 1-mm-high palatal bevel.
The clinicians used disilicate reinforced glass-ceramic material to fabricate the veneers, then evaluated the restorations using U.S. Public Health Service criteria. Survival was defined as the time from cementation to failure of the veneer. Fracture of the ceramic and deterioration of adhesion were also considered veneer failure.
The estimated survival rate of the veneers in the study was 0.997 or greater for 10 years. Over the years, some teeth with veneers had fractures and secondary caries, the authors noted.
Because veneers avoid aggressive tooth preparations that damage the tooth structure while masking discolored teeth for a significant number of years, they are a valid alternative to restorations such as crowns, the authors wrote.
"The current study recommends the use of ceramic veneers to improve the appearance of fluorotic teeth, thereby improving the patient's smile," Demirekin and Turkaslan concluded.