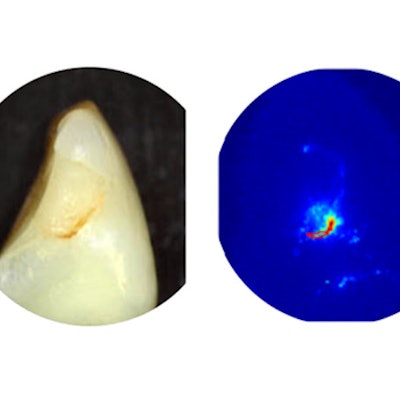 Nondestructive short-wave infrared reflectance (SWIR) and optical coherence tomography (OCT) can safely monitor the activity of secondary caries lesions, findings published January 10 in the Journal of Biomedical Optics suggest.
A team led by Dr. Nai-Yuan Chang of the University of California, San Francisco reported that transparent surface layer thickness measured with OCT correlated with both SWIR and thermal measurements of rates of fluid loss. They also found that SWIR showed more promise than thermal imaging for assessing secondary lesion activity.
Dental restorations have made strides over the years, but materials still have some variability in their long-term success rate. Microscopic leaks may form if restorative materials do not bond well to surrounding healthy tooth structures. These leaks allow fluids and bacterial acids to penetrate beneath the restoration, leading to secondary caries that appear and grow around a previously restored cavity.
Chang and colleagues explored methods for monitoring such activity in dental restorations. They analyzed 63 extracted human teeth with a total of 109 suspected secondary lesions using SWIR and thermal imaging during dehydration. They also measured transparent surface layer thickness via OCT, with micro-CT imaging confirming lesion severity and structure.
The researchers found that increasing transparent surface layer thickness led to decreased permeability of lesions. They added that this finding indicates that lesions are potentially nonactive at a thickness of greater than or equal to 70 µm. Additionally, while SWIR performed better than thermal imaging for secondary lesion activity assessment, the team added that both methods performed best on smooth surface lesions.
The researchers suggested that their findings could advance diagnostic imaging in dentistry and help meet the need for better diagnostic and easily operable clinical devices.