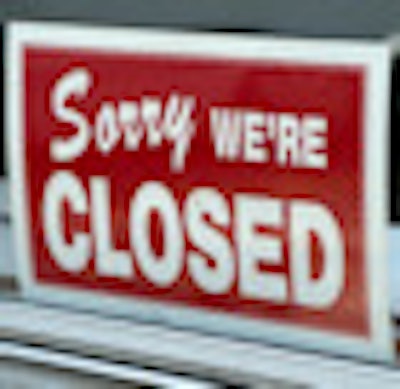 Allcare Dental & Dentures, a provider of low-cost dentures and dental services with more than 50 offices across the U.S., is reportedly going out of business.
Employees were contacted on New Year's Eve by company officials and told that all facilities were being closed and that their health benefits would cease as of midnight that night, according to a story by WKBN in Youngstown, OH.
On January 3, Allcare posted a letter on its website that reads, in part:
We apologize that we were not able to contact you by phone to notify you of the situation, but our companywide phone system and patient information computer network was abruptly shut down by our outside network provider. Allcare's system remains completely shut down with no knowledge of when it will be back on but we are working to find a resolution to the issue.

The reason for the closing is because the business became severely cash constrained and had no way to continue to operate going forward. Allcare was confident in their financial plan to avoid this situation. The plan was to wind down underperforming offices while at the same time raising capital from an equity group. However, the projected closing date for that equity deal was missed and the company did not have the time it needed to get to a closing with the capital group. Bridge financing was attempted to fill the financial gap but there was no success with obtaining that.

At this time, Allcare is working hard to transfer patient records and unfinished dental work to dentists with offices located as close as possible to the Allcare offices that are now closed. ... Our efforts will continue and updates will be posted to this site informing you of where your dental records will be transferred and where you may want to go to continue and/or complete your dental treatment. The State Dental Boards are being notified of the situation today. We truly appreciate your patience and understanding during this difficult time.
Numerous postings on another website, pissedconsumer.com, said that offices across the U.S. had been closed "without warning" and that many people who had prepaid for dental care will not get their money back.
Allcare was the subject of numerous lawsuits and complaints in recent years, including a lawsuit filed by New York Attorney General Andrew Cuomo against 10 healthcare providers that allegedly used predatory practices to promote CareCredit; a lawsuit filed by a West Virginia woman accusing the company of defective dentures; complaints by former employees who accused Allcare of deceiving its patients to increase profit margins; and a $135,000 consumer settlement with the Pennsylvania attorney general's office for not honoring advertised discounts, using confusing information about limitations or qualifications for various promotions, and failing to provide consumers with information about financing services.
The company was founded in 2005 by Robert S. Bates, DDS.
Copyright © 2011 DrBicuspid.com