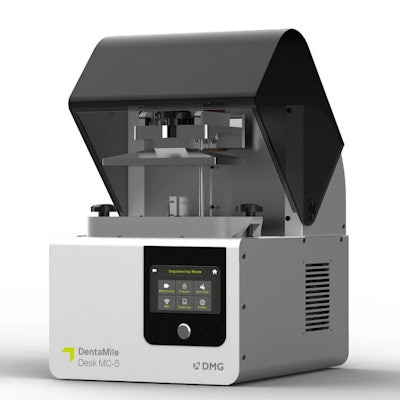 DMG America has launched the DentaMile Desk MC system, a complete dental 3D printing solution. The all-in-one system comprises a 3D printer, a washing unit, and a curing unit.
The MC-5 DLP printer measures 5 X 3 x 3.5 inches and is compatible with all standard CAD programs (STL files). The Wash MC unit features a magnetic mixer and basket that ensures thorough cleaning of devices using isopropyl alcohol. Finally, the Cure MC unit uses ultraviolet LED light to cure a variety of resins.
The DentaMile Desk MC system can be used in conjunction with DMG's light-curing 3D resins and DentaMile Connect, the company's cloud-based design software. The all-in-one system comes with DentaMile CAM MC nesting and slicing software to prepare files for 3D printing.