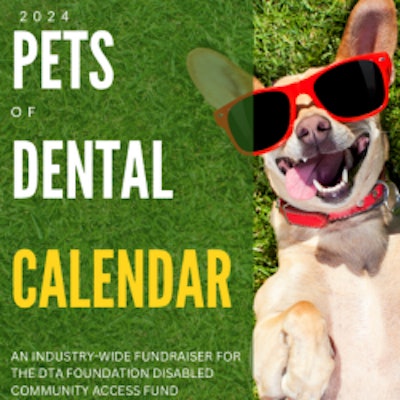 If your office loves pets, you could make them famous while raising awareness of special needs dentistry. The Dental Trade Alliance Foundation (DTAF) unveiled a new fundraising initiative, the 2024 Pets of Dental Calendar, that will be available in November 2023.
The goals of the initiative are to raise money for the DTAF Disabled Community Access Fund, unite the dental industry to support the disabled community, and raise awareness of treatment opportunities and techniques for patients with special needs to improve access and eliminate stigma, DTAF said in a press release. Each month of the calendar will be sponsored by an industry partner and will feature a themed photo collage of their team members' pets.
The calendar will be sold to dental practices through national distributors beginning in November. In addition to featuring pets, the calendar will feature a vignette from a dentist or key opinion leader with insights into treating patients with special needs, DTAF said. Pets will also be featured on social media, and DTAF will hold a contest for the cutest pet, which will be featured on the cover of the 2025 calendar.
Practices and stakeholders are encouraged to sponsor one of the months in the calendar or donate to the fund. To contribute to the DTAF initiative, contact Sarah Miller at sarahmiller@dentaltradealliance.org.