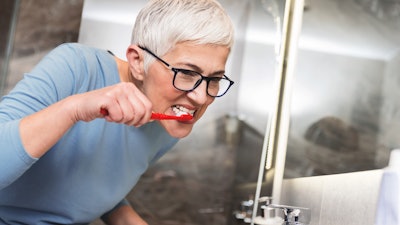 The International Association for Dental Research (IADR) has launched an online oral health self-care platform intended to connect patients with dental professionals.
The platform was described in a presentation that was delivered on June 22 at IADR's annual meeting in Bogotá, Colombia. It was developed by Chloe Meng Jiang, PhD, of the University of Hong Kong and was launched in Hong Kong for pilot testing in March 2020. The tool pairs online shopping for oral health products with oral health information and education resources.
Dentists and dental hygienists can register for the platform for free. Patients register for the service via an invitation link sent by the clinic, the IADR said.
As of November 2022, seven dental clinics and 10 dentists/hygienists have registered for the platform. In addition, 495 patients have registered and joined as active users, and 631 customized dental care instructions have been distributed to registered patients.
A total of 348 purchases have been made at a mean amount of $57. The most popular purchased items have been toothpaste, dental floss, mouth rinse, and manual toothbrushes.
"Based on the preliminary data, the online platform is a promising tool to promote customized oral health self-care among dental patients," the IADR said. "It helps to nature positive dental behavior among dental patients by connecting them with dental professionals."