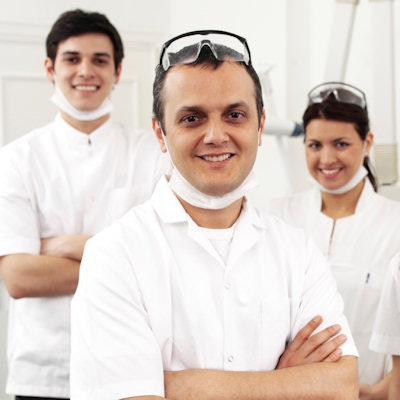 Is the dental therapist experiment in Minnesota a success? The answer largely depends on who you ask, and it is likely too soon to know for sure. However, the program at least appears to be on the right track, according to the panelists of an April 24 webinar held by the National Association of Dental Plans (NADP).
Dental therapists can be seen as part of the solution to dentistry's access-to-care problem, according to panelists Jane Koppelman from Pew Charitable Trusts and David Gesko, DDS, from HealthPartners, an integrated, nonprofit healthcare chain. But outside factors -- such as the increasing integration of dentistry and medicine and the push for cheaper healthcare costs -- may further drive the demand for these providers in the future.
"Right now we're not seeing an efficient system," said Koppelman, who is the research director for children's dental policy at the Pew Charitable Trusts. "We're seeing all of the restorative care delivered by the most expensive person of the dental team."
7 years of dental therapists
In 2009, the Minnesota state government became the first in the U.S. to approve the licensing of dental therapists. The state law requires these new types of dental providers to primarily serve low-income, uninsured, and underserved patients.
"Dental therapists play a role similar to nurse practitioners or physician assistants in medicine," Koppelman said. "They provide preventive and routine restorative care, meaning they can drill and fill teeth and do nonsurgical extractions."
Today, 80 dental therapists practice in the state. Almost all of them are employed, and they earn about 30% to 50% of what a dentist makes, Koppelman noted. Dental therapists are also more likely to be employed in a community-based or nonprofit clinic than dentists and hygienists, and they are more likely to practice outside of the Twin Cities metropolitan area of Minneapolis and St. Paul.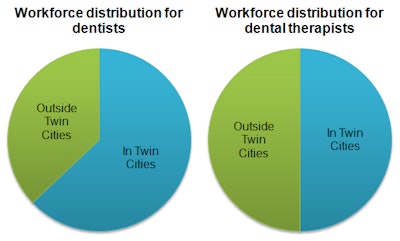 Dr. Gesko, who is a Minnesota Board of Dentistry member and dental director and senior vice president for HealthPartners, has worked alongside dental therapists since their inception. So far, he's had positive experiences and so have the low-income patients at HealthPartners' dental clinics.
"I can think of only one patient situation in the now six or seven years we've had dental therapists in our practice who chose to see a dentist instead," Dr. Gesko said. "The underserved are very pleased and happy when anyone is willing and happy to take them in."
Because dental therapists are relatively inexpensive to employ, organizations also have an easier time trying alternative methods of delivering dental care. For instance, some nursing homes and schools in the state have begun to employ dental therapists who use telemedicine to communicate with their supervising dentist.
"It's more affordable to try these innovative, alternative models," Koppelman said.
Only a matter of time?
While it appears that dental therapists have had at least some site-specific benefits, critics have argued that they have yet to solve the access-to-care problem on a state level. For instance, in the nearly 10 years dental therapists have been approved to practice in the state, the percentage of Medicaid children receiving dental care has remained around 41%. But that number doesn't tell the full story, according to Koppelman.
"The words are correct -- the rate does remain the same," she said. "But over the past six years, there has been a large influx of kids onto the Medicaid role. So, in numbers, Minnesota is serving many, many more children. It's the same percentage of a larger number."
Dr. Gesko also added that those in the state are not naive, and they know that dental therapists alone will not magically fix all of the access-to-care problems. However, he believes they are making a positive difference, and as dentistry becomes increasingly integrated with the rest of healthcare, insurers will need to find ways to increase the quality of care for the least amount of money. Dental therapists will likely continue to be part of that solution.
"When you change a payment system and insert accountability measures, you change the equation," Koppelman said. "It puts pressure on a system to look for the lowest paid qualified provider to do the work."
And if you're concerned about dental therapists from a competition standpoint, Dr. Gesko noted that dentistry as a whole is changing, and you may have to get used to new technologies and models of care.
"As we talk about dental therapy, I can't help but think we're talking about change, and we're living in a life of change," he said. "Dentistry is changing significantly as well. ... Perhaps those who are concerned about dental therapy should be concerned about robots replacing what we are doing as dentists."