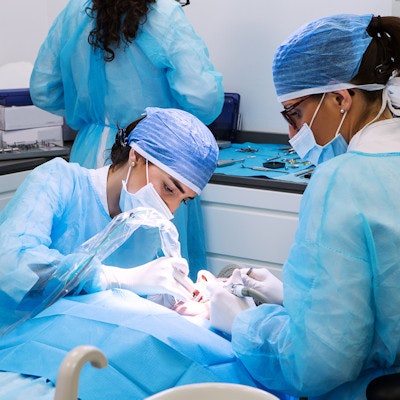 Dental therapists contributed to delivering dental care to patients in Alaska, according to a study in the Journal of the American Dental Association. The number of diagnostic, preventive, and restorative services in the Yukon-Kuskokwim Delta rose since the introduction of dental therapy.
Tribal areas in Alaska were the first in the U.S. to authorize these midlevel providers. Diagnostic and preventive services delivery increased for therapists while they remained stable or decreased for dentists, the authors wrote.
"(The) authorization of dental therapy in Alaska sustained positive impacts and bolstered support for dental therapy practice as an effective upstream policy solution to address provider shortages in the United States," wrote the authors, led by Dr. Donald Chi, PhD, a professor and the associate dean for research at the department of oral health sciences at the University of Washington in Seattle (JADA, October 11, 2022).
Since dental therapy practice was introduced in Alaska, 12 state legislatures in the U.S. have passed dental therapy legislation. Although the authorization of midlevel providers has been controversial, understanding the long-term effect of dental therapists could help inform policy decisions in the U.S. Until now, researchers believe no other studies have compared secular trends in dental service delivery between therapists and dentists.
To investigate secular trends in dental service delivery between dental therapists and dentists in the Yukon-Kuskokwim Delta region of Southwest Alaska, researchers analyzed the electronic health record transactions for 27,459 patients from 2006 to 2015. Using current dental terminology procedure codes, they identified diagnostic, preventive, restorative, endodontic, and oral surgery services.
During the 10-year period, there were 722,272 dental services provided to the 27,459 Alaska Native community members. Overall, the number of dental services delivered increased annually since dental therapists began practicing in the state, according to the study.
Dental service type
Annual change by number (95% confidence interval [CI])
Diagnostic
1,220 (364 to 2,075)
Preventive
1,468 (429 to 2,506)
Restorative
326 (-100 to 754)
Oral surgery
-33 (115 to 69)
Endodontic
-47 (-91 to -2)
Other
4 (-14 to 22)
When the data were broken down by services, there was a 3.5% annual decrease observed for dentists (95% CI, -5.13% to -1.86%; p value < .001) and a 4.07% annual increase for dental therapists (95% CI, 2.82% to 5.33%; p < .001) for diagnostic services, according to the study.
For restorative and oral surgery services, there were similar trends. For preventive services, there was no change for dentists (-0.14%; 95% CI, -2.30% to 2.02%; p = .89) and a 4.77% annual increase for dental therapists (95% CI, 3.51% to 6.03%; p < .001). Similar trends were observed for endodontic services, the authors wrote.
However, the study was not without limitations, including that the data records analyzed were only for patients who used dental services. Researchers did not have access to the total number of people who were eligible to use a dental service in the area, meaning that the primary main outcomes are summarized as counts and relative percentages rather than proportions, they wrote.
The positive effects sustained by allowing dental therapists to practice in Alaska indicate that there is a role for dental therapy in addressing poor access to oral health care in underserved communities, the authors wrote.
"Dental therapists have contributed substantially to the delivery of dental services in Alaska Native communities and suggest that dental therapy practice is a potential solution to address dental provider shortages in the United States," Chi et al concluded.