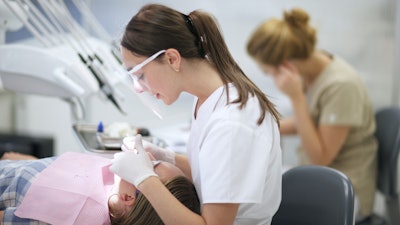 The University of Maine at Augusta must study the feasibility of establishing a dental therapy degree program at the school -- the first in the state -- and submit it to legislators by 2024, according to a law recently passed in the Pine Tree State.
On June 16, Maine Gov. Janet Mills signed bill LD1026 into law, which instructs the university to study and analyze the feasibility of establishing a program for these midlevel providers. The law was amended from a previously introduced bill that directed the university to establish a dental therapy degree program at the university's dental hygiene program and seek accreditation from the ADA Commission on Dental Accreditation (CODA) by February 2024.
The study must consider the costs associated with establishing a dental therapy program, the demand for it within Maine and the region, and any other pertinent issues. By November 6, 2024, the university must submit a report that includes its findings and recommended legislation and appropriations requests to the legislature's joint standing committee. The committee may report legislation related to the analysis to the 132nd legislature in 2025, according to the law.
In 2014, the state passed a law establishing a new license for dental therapists despite opposition from the Maine Dental Association, which lobbied aggressively against its passage. The law allowed therapists to work in rural areas where dental care was not easily accessible to residents. At the time, nearly all of Maine's counties had a shortage of dentists.
Since 2005, dental therapists have been working in the U.S. Currently, they are authorized to work in more than a dozen states, including Minnesota, Alaska, and Washington.
To date, there are five dental therapy programs in the U.S. They include Ilisagvik College in Alaska; Skagit Valley College in Washington; Minnesota State University, the University of Minnesota, and Metropolitan State University in Minnesota, according to the American Dental Therapy Association.
In 2020, the dental therapy program at Ilisagvik College became the first in the U.S. to receive CODA accreditation. The only other programs accredited by CODA are at Skagit Valley College and the University of Minnesota School of Dentistry, according to CODA.