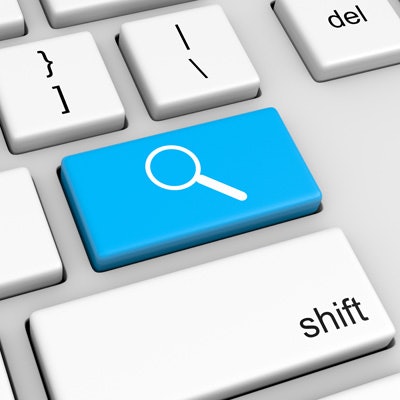 According to a 2014 Bright Local consumer survey, 38% of potential patients start their search for a local doctor or dentist online. And a 2015 BrightLocal survey showed that optimizing your local search ranking delivers the highest return on investment (ROI) of online marketing tactics.
So building your practice site and promoting your practice online to make it rank higher in search engine results is a useful practice-building tactic. This article will focus on Google, as the majority of people start at this search giant.
While there's no silver bullet to ranking highly on local online searches, there are steps you can take today to improve your online presence.
3 pillars of local search
Google is always trying to perfect its algorithm and regularly updates it to provide internet users with the most relevant search results possible. While Google doesn't share all the nitty-gritty details of how to do this, it does release recommendations; in June 2016, Google revealed that it bases local search rankings on relevance, distance, and prominence.
Here are tactics you can implement to optimize for the three pillars of search.
1. Relevance
Google's job is to ensure that each query is met with the most relevant search results. Boost your ranking with a website that highlights key personnel; which orthodontists, oral surgeons, or other specialists your practice affiliates with; insurance providers you work with; and the services you offer (such as minor tooth movement, teeth whitening, etc.) so that you're accurately represented in that particularly search.
In addition, including a Frequently Asked Questions (FAQs) page on their website gives providers an opportunity to be thought leaders and add weight to search engine optimization (SEO). For instance, a potential patient might be wondering if his wisdom teeth need to be pulled and search "How can I tell if my wisdom teeth need to be pulled?" If you've written FAQs about wisdom teeth extraction, your site content will be relevant to the person' particular content, as well as address any concerns.
"While there's no silver bullet to ranking highly on local online searches, there are tactics you can implement today to start optimizing your online presence."
2. Distance
Google gives extra weight to practices that are close to the searcher, so ensure your name, address, phone number, and hours are accurate on your website, as well as anywhere else you are listed online. Claim your Google My Business listing to be visible on search results and Google Maps. If you have multiple practice locations, list each one with its corresponding name, address, and phone number on your site and Google My Business page.
3. Prominence
Google uses a wide variety of factors to determine how prominent your practice is. While it's protective of the exact details on how it determines the prominence of your organization, links to your site from other websites, directory listings, and how often your organization is mentioned across the web all have an impact.
Therefore, claiming or creating online listings on local business review sites such as Yelp and Angie's List, as well as health directory sites like Healthgrades and Vitals.com can be helpful. If you find mentions of your practice online without a link to your site, contact the author and ask to have a link added to your site.
Local Stack: An SEO Win
The top three local search results, known as the Local Stack, are distinctive from the rest of the search results, as you can see below. It's a huge SEO win to get into the Local Stack.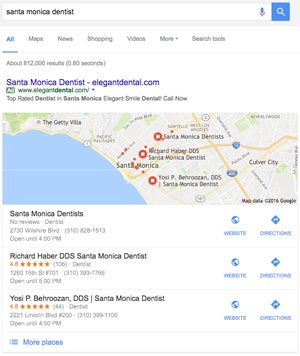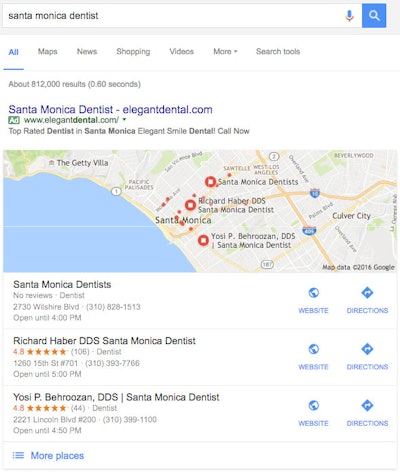 However, it may soon be harder for dentists trying to get into the Local Stack as Google is replacing one of the three results with a very subtle paid advertisement that looks like an organic listing. This works to your advantage if you're willing to spend the money to advertise your practice, but a purely organic listing could fall behind.
Regardless of potential Google changes, one of the best things you can do for your dental practice is optimize for local search. Soon, you could be the dentist everyone is telling their friends and family about.
Greg Pang is a senior online marketing manager at PatientPop.
The comments and observations expressed herein do not necessarily reflect the opinions of DrBicuspid.com, nor should they be construed as an endorsement or admonishment of any particular idea, vendor, or organization.