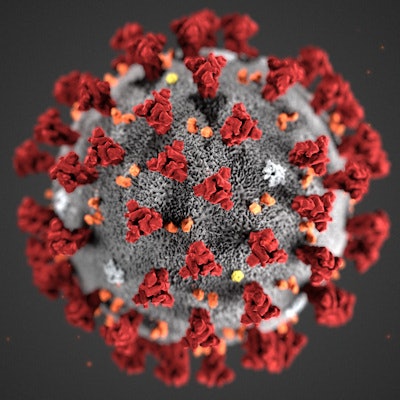 The coronavirus disease (COVID-19) pandemic is resulting in unprecedented times for the dental industry, as well as society as a whole.
Information is changing by the hour and, with that in mind, we believe dentists and team members should have one source that is constantly updated with the latest information that could and will impact our industry and dental businesses.
The DrBicuspid.com Editorial team will be keeping this updated with links to stories that we believe you will find interesting and helpful. We will also be time stamping these so you know when they were posted by our team.
We ask that you refresh this page often so you ensure you are getting the latest information from DrBicuspid.com.
Note: All times listed below are Pacific time.
Friday, March 20
9:30 a.m. -- Harvard University and Massachusetts Institute of Technology researchers developed a mobile application that follows users' movements and alerts them if they have come into contact or near an individual who has self-reported testing positive for COVID-19. Read more here.
7 a.m. -- Cybercriminals are promising no more healthcare-related cyberattacks during the COVID-19 crisis. Can they be trusted? Read more here.
7 a.m. -- SmileDirectClub says it is one of the largest 3D printing manufacturers in the U.S. As a result, the company has reportedly opened its manufacturing facility to partner with medical supply companies and health organizations to increase production of medical supplies necessary to combat the COVID-19 pandemic. Read more here.
Thursday, March 19
7 a.m. -- The U.S. Senate and House have passed a COVID-19 legislation package that includes three issues important to dentistry that was later signed into law by President Donald Trump. Here is how the ADA believes that impacts dental practices.
7 a.m. -- The ADA provided its members and their patients detailed guidance on March 18 on what to consider dental emergencies and nonemergency dental care as part of an effort to curb the spread of COVID-19 and alleviate the burden on hospital and emergency departments. Read more here.
7 a.m. -- The American Association of Endodontists has announced several recommended considerations to its 8,000-plus endodontist and dentist members amid the COVID-19 outbreak. Read more here.
7 a.m. -- A dental assistant says she believes she was fired from her job at a Hickory, NC, dental office because she is presumed positive for COVID-19 and was ordered to quarantine until the test results come back. Read more here.
Wednesday, March 18
2 p.m. -- As COVID-19, the disease caused by the novel coronavirus, spreads rapidly in the U.S., a new tool from Kaiser Family Foundation provides the latest state-level data on COVID-19 cases and deaths, provider capacity, and the various policy actions that states have taken to combat the crisis.
5 a.m. -- A University of Florida College of Dentistry student who treated patients is among the confirmed cases of COVID-19 in Gainesville, FL. Read more here.
5 a.m. -- A dentist has been arrested for selling a fake vaccine for COVID-19 in Karachi, Pakistan. Read more here.
Tuesday, March 17
4 p.m. -- China has reportedly given the go-ahead for researchers to begin human safety tests of an experimental coronavirus vaccine in the race to develop one against the COVID-19 epidemic that has killed more than 7,000 people worldwide. Read more here.
12 noon -- The Louisiana State Board of Dentistry has prohibited all nonessential, routine dental procedures and surgeries in the state from March 18 until at least April 16. Read more here.
10 a.m. -- The New York attorney general has ordered Alex Jones to stop selling fake coronavirus treatments. Jones has been marketing and selling toothpaste, dietary supplements, creams, and several other products as treatments to prevent and cure the coronavirus. Read more here.
5:30 a.m. -- Nearly 15,000 people who attended the Pacific Dental Conference in Vancouver in early March have been told to self-isolate immediately by British Columbia's provincial health officer who said multiple cases of coronavirus have been traced to the event. Read more here.
5 a.m. -- More than 100 Australian doctors and dentists are trapped on board a cruise ship that is currently stuck off the coast of Chile after the country banned cruise ships from docking in response to the COVID-19 pandemic. Read more here.
Monday, March 16
4:30 p.m. -- The American Dental Association is recommending dentists nationwide postpone elective procedures for the next three weeks. ADA recommends practices only focus on emergency care. Read more from the ADA here.
4 p.m. -- The Organization for Safety, Asepsis and Prevention (OSAP) issued the following statement: "We have heard the needs of the dental community and have opened our member-only section to all dental professionals. We want you to have all the resources you need as we navigate these unchartered waters." Watch the video from OSAP and learn more here.
1:45 p.m. -- A phase I clinical trial evaluating an investigational vaccine designed to protect against coronavirus disease 2019 (COVID-19) has reportedly begun at Kaiser Permanente Washington Health Research Institute (KPWHRI) in Seattle. Learn more here.
1:25 p.m. -- President Trump's "15 days to slow the spread" guidelines includes wording that encourages people to stay home as much as possible. View the guidelines here.
12:45 p.m. -- The White House has advised the public to avoid groups of more than 10. This is down from the number of 50 discussed earlier by the CDC.
12:30 p.m. -- The Academy of Laser Dentistry (ALD) has announced that the 27th annual conference and exhibition, which was scheduled to take place April 2-4 at the Paradise Point Resort in San Diego, cannot be held due to the coronavirus pandemic.
12 noon -- It is being reported that San Francisco is among six Bay Area counties that expected to fall under a "shelter in place" order from Tuesday until April 7. The order calls for all "routine medical appointments" and elective procedures to be canceled or rescheduled.
10 a.m. -- Dentists in Quebec, Canada, are postponing all appointments for nonurgent dental care. This starts today and extends for 14 days.
British Columbia was not
far behind
.
10 a.m. -- In this statement, the Royal College of Dental Surgeons of Ontario in Canada "strongly recommends that all nonessential and elective dental services should be suspended immediately. Emergency treatment should continue."
9 a.m. -- The Kaiser Family Foundation has revealed a new analysis that finds inpatient coronavirus treatment costs could top $20,000 for patients with employer coverage.
6 a.m. -- California has become the latest state to issue a statement on patient appointments, saying the California Dental Association "strongly recommends that dentists practicing in California voluntarily suspend nonessential or nonurgent dental care for the next 14 days."
Ohio was the first state that urged people "to postpone dental, veterinary, and possibly medical elective surgeries," and Illinois also has followed suit. Vermont is reportedly doing the same.
6 a.m. -- A woman from the U.K. who was a victim of the coronavirus disease was the co-founder of a dentistry publishing and communications company. (On a personal note, this news hit close to home for me as I have worked with her husband, Ken, in the past.)
6 a.m. -- Those who were a part of the Pacific Dental Conference 2020 at the Vancouver Convention Centre in British Columbia are being told about a possible exposure to COVID-19 on March 6 from an attendee at the meeting.
Again, please hit refresh in your browser to make sure you are seeing the most up-to-date information.
As a reminder, we have a very detailed FAQ section on the impact of the coronavirus on dental practices.