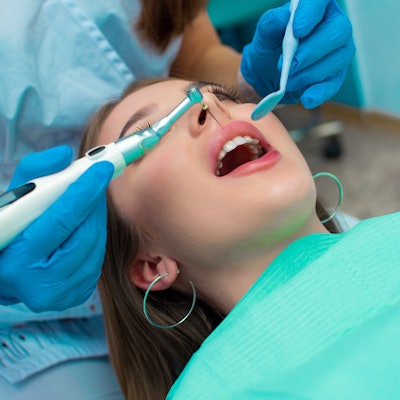 One in 12 dental hygienists dropped out of the workforce during the COVID-19 pandemic, which could lead to a possible hygienist shortage, according to a study published in the February issue of the Journal of Dental Hygiene.
Concerns about being exposed to the novel coronavirus and the infection control measures being taken at dental practices led them to leave the profession, according to the authors. Lack of childcare was also a factor in their decision.
"COVID-19 has led to a reduction in the dental hygienist workforce that is likely to persist until the pandemic passes," wrote the group, led by JoAnn Gurenlian, RDH, PhD, a professor and graduate program director at the Idaho State University Department of Dental Hygiene in Pocatello (J Dent Hyg, February 2021, Vol. 95:1, pp. 17-24).
In the U.S., COVID-19 has had a major effect on the labor market, specifically in women-dominated careers, such as the role of dental hygienist. Women, many of whom are primary caregivers, had to exit their jobs during the pandemic due to day care and school closures or to take care of aging parents.
Because 98% of dental hygienists are women, researchers in the new study sought to gauge dental hygienists' employment patterns, as well as their attitudes about working during the pandemic.
Approximately 4,800 dental hygienists in the U.S. participated in an online survey that asked respondents questions about their work status before and during the pandemic, along with their reasons for not working. Responses were collected between September 29 and October 8, 2020, and the results were analyzed. The study was a collaboration between the ADA and the American Dental Hygienists' Association (ADHA). Of those who responded, 98% were women, and about 32% of all participants had at least one underlying medical condition associated with SARS-CoV-2.
About 8% (360) of dental hygienists who were working in practices on March 1 said they have since left the workforce. Of that group, about 59% (205) left their positions voluntarily. Meanwhile, 41% comprised 84 hygienists who were furloughed or laid off and 58 who were permanently released from their jobs, according to the authors.
Of those who left voluntarily, nearly half, or 100 dental hygienists, did so because they did not want to return to work until the pandemic was under control. The rest of the hygienists who left at their own discretion cited concerns such as childcare or practices not adhering to safety standards, or a desire to no longer work as a hygienist, among other reasons.
Among those hygienists who were released from their positions, 51 said they had not returned to the workforce because they wanted to wait until the pandemic was under control.
The study does have limitations, the authors noted. Because it is based on self-reported information, the results may be influenced by recall or social desirability.
Nonetheless, the dental hygienist labor market remains tight, which likely will continue to affect recruitment until the pandemic subsides. Also, it may have a longer-term effect on the profession's employment levels, Gurenlian and colleagues wrote.
"There will likely ... be a much smaller, but longer lasting impact, as a small share of dental hygienists permanently leave the workforce," they concluded.
COVID-19 transmission rates among hygienists
The survey data were also used for a second paper in the Journal of Dental Hygiene on COVID-19 transmission rates among dental hygienists. In a study published in the same issue (pp. 6-16), researchers found that 3.1% of respondents had ever been diagnosed with COVID-19 through testing or by a medical professional.
The COVID-19 diagnoses were not clustered in any particular region in the U.S., the group found. That percentage was also lower than the rate for many other types of healthcare professionals and similar to the rate for dentists, though it was higher than the percentage in the general population.
"The low infection rate shows us we can provide oral [healthcare] in a safe manner, which is critically important since the safety of dental hygienists and the patients they serve is of the utmost importance to ADHA and the dental hygiene profession," stated ADHA CEO Ann Battrell in a press release.
Dental offices have also bolstered infection control measures during the COVID-19 pandemic, the researchers found. Nearly 100% of respondents said their primary dental practice had enhanced infection prevention and control protocols, and the majority wore eye protection, masks, protective clothing, and gloves.
"The dental team has been following strict infection control guidance since long before COVID-19," stated senior author Dr. Marcelo Araujo, PhD, CEO of the ADA Science & Research Institute and ADA chief science officer. "This study is another proof point that dental care is safe for patients and dental professionals."