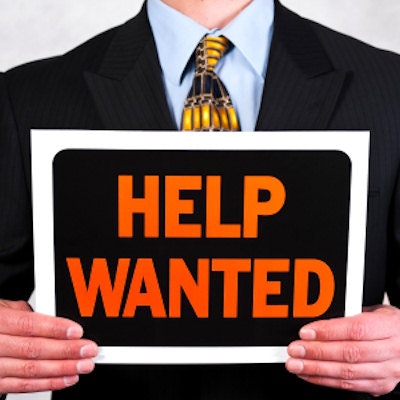 Dentistry is facing a harrowing workforce shortage that began before the COVID-19 pandemic, and it may get worse before it gets better, according to data released on October 3 during a webinar hosted by the ADA's Health Policy Institute (HPI).
In any month, 4 out of 10 dental practices are hiring dental hygienists and assistants. Within the next five years, about 34% of dental assistants and about 31% of dental hygienists indicated that they expected to retire, according to the data.
To retain and recruit these employees, dental practices may need to engage in responsive compensation, expand their benefits, and foster a positive work environment that includes good communication and transparency, said Dr. Chelsea Fosse, senior health policy analyst at HPI.
"The next challenge to remain a competitive employer and recruiter will be to offer benefits like health insurance and paid leave," Fosse said during the webinar, which had about 400 attendees. "Seventy-one percent of U.S. workers have health insurance available to them, and the dental industry risks losing some of our existing and prospective dental team members if we don't make this adjustment."
Breaking down hygienist, assistant satisfaction
Though a lack of staffing may be an uphill battle, better understanding the needs of critical dental office employees may be the key to overcoming staffing challenges. To get a sense of the workforce hurdles, HPI collaborated with the American Dental Hygienists' Association (ADHA), the Dental Assisting National Board, and the ADA. About 9,000 hygienists and assistants participated in a survey querying them about their level of job satisfaction and compensation, including benefits.
About 55% of dental hygienists and 60% of dental assistants are satisfied with their roles. About 7% of assistants and approximately 8% of hygienists reported low satisfaction, according to the results.
Among dental assistants and dental hygienists, a smaller percentage of dental service organization (DSO) employees and part-time employees indicate high job satisfaction. Dental hygienists working in public health indicate higher levels of satisfaction than those working at private practices, according to HPI.
Factors associated with retention were work-life balance, positive workplace culture, and the ability to help patients, according to the data. On the other hand, factors associated with attrition included negative workplace culture, insufficient pay, lack of growth opportunities, inadequate benefits, and feeling overworked. Additionally, about 62% of dental assistants and 80% of dental hygienists indicated they voluntarily left a dental assisting or dental hygiene position, according to HPI.
As for benefits, the majority of respondents reported receiving paid holidays, paid vacation, retirement savings, and dental benefits. Only 49% of dental assistants and 37% of hygienists reported receiving health insurance, and about 56% of assistants and approximately 45% of hygienists reported receiving paid sick time, according to the survey results.
"Interestingly, more DSOs were likely to provide benefits, but employees reported lower satisfaction," Marko Vujicic, PhD, chief economist and HPI vice president, said.
Additionally, a different survey was sent to dentists, asking questions about benefits. Unsurprisingly, about 83% of dentists cited cost as the top reason. While cost was also the predominant reason among dentists for not offering paid leave, "1 in 3 dentists does not offer the benefit because it's the industry norm or obligation," Fosse said.
Beyond the pandemic
Since practices were permitted to reopen during the pandemic, HPI studies have revealed the ongoing impact of closures on the workforce. In February, a study published in the Journal of Dental Hygiene revealed that fewer than half of hygienists who left their places of employment early in the pandemic have returned. The situation was at its worst in February 2021 when 1 in 12 dental hygienists dropped out of the workforce.
However, JoAnn Gurenlian, RDH, PhD, the ADHA's director of education and research, said this problem dates to at least 2016. At that time, hygienists complained about the lack of benefits, low wages, a toxic work culture, and a lack of respect. In 2019, 43% of hygienists reported wanting to find a new job within the next year, she said.
"We can't blame everything on the pandemic," Gurenlian said.
Unfortunately, the problems "will not be solved overnight," Gurenlian said. "You can solve wage problems but cannot solve behavioral problems overnight. There has to be a willingness to address that problem. We have to agree what is the problem and how to solve it."
What's next?
Dentistry needs to strategize to deal with the large number of potential retirements in the next several years, Dr. Hana Alberti, senior director for the Center for Dental Practice Policy, ADA Practice Institute, said.
"We need to reach them in middle school and high school," Alberti said "We need to change society's perception of oral health. Oral health is health."
Additionally, Alberti noted that the ADA is in favor of making it easier for dental teams to work in other states. Since licensing rules vary from state to state, it is difficult for dentists and hygienists to move and work in another place.
"Portability of licensing is on the top of the priority list," Alberti said.
Gurenlian added there needs to be collaboration to ensure that dental assistants and dental hygienists work to their full scope of practice.
"If we did that, we could really support a lot of growth opportunities for both different groups," Gurenlian said. "Open the door for those opportunities in whatever practice setting they're in. So if we looked at that, it would really help in a lot of ways with the employment issues.
Some positive moves are already in the works. Recently, dentistry has made some strides to support other dental team members. For example, some practices are offering hygienists equity stakes in businesses, and dental associations are seeking funds to start training programs for dental assisting programs in their states, Fosse said.
"Hopefully, we'll see more shifts with dentists taking more of a leadership role in supporting other members of the dental team, Fosse said.