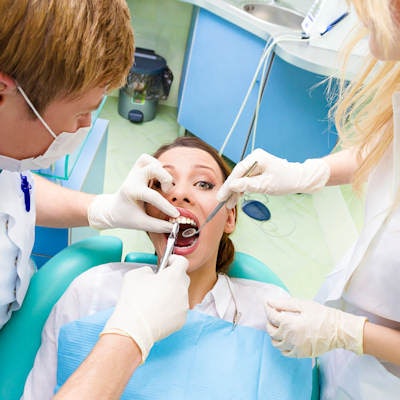 States that give dental hygienists more autonomy and expand their scope of practice may have fewer preventable nontraumatic dental visits at emergency rooms, according to a study published March 5 in Community Dentistry and Oral Epidemiology.
Since practice regulations pertaining to the dental workforce have implications for oral health outcomes, states may benefit from expanding the functions of dental hygienists, especially outside the dental office setting, the authors wrote.
"As more interventions to improve population oral health are explored, policy makers and stakeholders must also address the scope of practice policies for dental hygienists," wrote the authors, led by Dr. Marvellous Akinlotan, PhD, MPH, from the Department of Health Policy and Management, Texas A&M University in College Station, TX.
A history of direct access
In the U.S., emergency department (ED) visits for nontraumatic dental problems continue to rise. To combat this issue, some states have implemented initiatives, such as expanding the roles of dental hygienists, to improve access to care for underserved communities, including the poor, geographically isolated, individuals living in residential care settings, and those with mental and physical disabilities.
One strategy to improve such access to care is direct access to hygiene care, which the American Dental Hygienists' Association (ADHA) defines as hygienists' ability to initiate treatment based on their assessment of a patient's needs without the direct authorization of a dentist, to treat the patient without a dentist present and to maintain a provider-patient relationship.
For the last decade, direct access to hygienists has grown considerably. In 2008, 20 states in the U.S. permitted direct access. By 2021, that number more than doubled to 42 states. Currently, North Dakota, New Jersey, Rhode Island, Delaware, Washington, D.C., Mississippi, North Carolina, Hawaii, Alabama, and Louisiana don't permit direct access, according to the ADHA.
Although direct access is more common, the practice is not the same in all states. States that permit direct access have different rules concerning what specific tasks hygienists can perform and where they can serve patients.
For example, hygienists in Illinois can clean teeth, take x-rays, and apply fluoride to Medicaid patients or those without insurance in certain public health settings, including schools and programs for mothers and children. These same hygienists, however, cannot work on patients at nursing homes, prisons, or mobile dental vans.
Though expanding the functions of hygienists has been shown to improve access to care, organized dentistry and other stakeholders have pushed back on giving these oral healthcare professionals more autonomy.
Role of hygienists in preventive care
To explore the association between the 2014 Dental Hygiene Professional Practice Index (DHPPI) and preventable dental ED visits, researchers used emergency room data from 10 states in the U.S. and ordinary least squares models. The DHPPI measures hygienists' ability to provide services within their scope of training and the extent to which legal scope of practice regulations affect their ability to provide care for underserved populations outside the dental office setting.
DHPPI scores are based on four areas: regulation, tasks permitted, supervision, and reimbursement. Higher scores mean more tasks are allowed, hygienists have greater autonomy, and there are more possibilities for direct reimbursement.
In 2014, there were 584,403 nontraumatic dental ED visits in Arizona, Florida, Massachusetts, North Carolina, Nebraska, New Jersey, New York, Rhode Island, Vermont, and Wisconsin. Of these visits, 139,146 (23.8%) were identified as preventable. This is equivalent to 1.7 visits per 1,000 county population, the authors wrote.
Nontraumatic dental ED visits appeared tied to hygienists' autonomy. When controlling for outside factors, a 1-point increase in the DHPPI score was linked to a decrease in preventable dental emergency visits, the authors found.
Additionally, North Carolina had the lowest DHPPI score of the states in the study and the second-highest number of preventable visits at 2.2 per 1,000 county population. By contrast, Nebraska had the lowest number of preventable visits at 0.8 per 1,000 county population. The state also had the second-highest DHPPI score of 77.
Nevertheless, the study has several limitations, including that data from all 50 states could not be obtained to gain a national picture of the association between scope of practice policies and preventable dental visits, the study's authors wrote.
Since stringent state policies regarding the dental hygienist workforce are linked with higher preventable emergency dental visits in the U.S., policymakers and stakeholders should revisit practice laws, the authors wrote.
"Most of the population potentially benefits when dental hygienists can practice within their scope of training, particularly outside of the dental office, as captured by the DHPPI," they concluded.