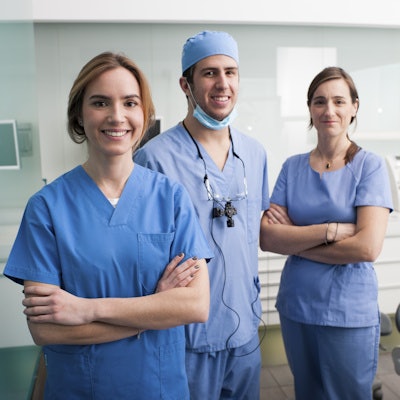 What will it take to get dentistry recognized as essential to U.S. healthcare? To answer this question, we must consider dentistry's value as healthcare struggles to address cost, poor outcomes, care management, and population health -- especially for vulnerable consumers and communities.
For decades, healthcare has considered prevention; however, the overwhelming focus has been reactionary care. Dentistry's approach has mirrored this focus. This results in a vicious cycle confronting all of healthcare, including dentistry.
First, consumers -- the primary drivers of their health -- have no idea what health is. Thus, they are already set up for failure. Second, consumers generally present to dentists too late. Their oral problems are well established, and they are often in discomfort, inflammation, and pain.
Dentistry provides services that support efforts to improve healthcare and population health, such as exams, cleanings, sealants, fillings, crowns, implants, extractions, surgery, and pain management. But most of dentistry's services are viewed as elective, driven by cosmetics, and only essential when an individual is motivated by intolerable pain.
To fix healthcare, we need to get ahead of the cycle and drive prevention. The core question is: How do we move forward to create a focus on health to establish an effective and efficient healthcare system?
Oral health can work like a Fitbit wellness device so that healthcare becomes anticipatory, preventive, and proactive. Based on our knowledge of oral-systemic connections, the evidence is clear that the mouth shows the impact of poor health management long before symptoms of nonoral chronic illness present and become comorbid. This poor health management happens as the result of health/risk concerns that harm the mouth and the body (e.g., diabetes, heart problems, high blood pressure).
Dentistry would be considered essential if it could advance healthcare's goals to reduce costs and improve quality as healthcare works to address the very diseases that are part of the oral-systemic link. This clarification is timely because recent studies have shown that dentistry can identify consumers at risk for these diseases, provide guidance to enhance prevention, and lead early intervention for at-risk consumers.
For this model to work, consumers must become partners rather than patients in their healthcare journey. Also, dental practitioners must better understand how the social determinants of health impact consumer health management practices, which, in turn, predictably reflect in their patient's clinical findings. Doing so would improve both patient engagement and enhance provider-patient relationships.
Dentistry's path to improving its value begins with the early discovery of risks for health conditions, including diabetes and high blood pressure. Dentistry can then provide individualized guidance and management of oral infections, as well as communicate these early discoveries to other chronic disease management stakeholders.
Dentistry can also expand its influence across healthcare if it shares the information it captures about oral health management and connects the data to oral health status. Consumers would gain personalized health guidance from this process, and other medical practitioners could use the timely feedback to learn about patients at risk for chronic disease and improve collaboration. In addition, insurers could incentivize patients to engage in good health management practices and dentists to provide quality healthcare. In this new relationship, patients would become more accountable in partnership with dental practitioners.
The COVID-19 pandemic reminded society that health is essential. It also critically challenged the U.S. healthcare infrastructure to become more resilient in the face of unforeseen threats to population health, and it made painstakingly clear that dentistry is not viewed as essential in the current medical ecosystem.
Integrating dental and medical care, a movement in the right direction in care management of chronic illness, will not provide breakthroughs to address all of healthcare's problems. But gathering and sharing oral health data to a broader spectrum of healthcare can improve collaboration, and would be a logical strategy to advance health and care.
From early childhood, dentistry provides healthcare the best opportunity to confirm how people manage and can become proactive about their health. This action would bring a paradigm shift in healthcare to advance prevention. Dentistry would become essential as a foundation of primary care. Healthcare, in turn, would drive early and continuous dental visits to achieve its goals.
Dr. Fred S. Ferguson is an attending pediatric dentist at One Brooklyn Health in New York City and a distinguished teaching professor - emeritus at the Stony Brook University School of Dental Medicine. During his 42-year career at Stony Brook, Ferguson developed oral health programs for children with HIV infection, as well as patients with special needs, chronic health problems, and craniofacial deformities, and maintained an active practice. He is also president, CEO, and founder of Health Migration Consulting and AboutSmilesWorld.
The comments and observations expressed herein do not necessarily reflect the opinions of DrBicuspid.com, nor should they be construed as an endorsement or admonishment of any particular idea, vendor, or organization.