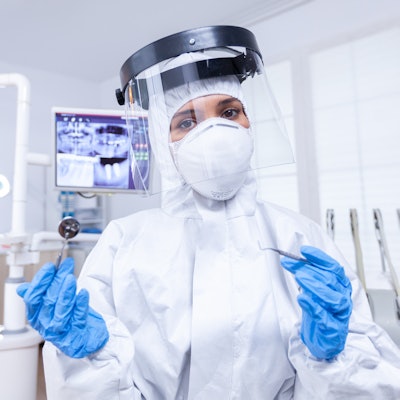 In 2010, the U.S. Patient Protection and Affordable Care Act (ACA) required that all insurance plans in the U.S. include 10 essential health benefits. The message this mandate sent to Americans was that 10 health benefits were specifically selected because they are essential to your health and well-being, and policymakers knew that the best way to ensure access to them is by requiring coverage.
One of these 10 essential services was pediatric oral healthcare. Adult oral healthcare services, however, were not included. Was this because the medical community didn't think they were essential? Or was it because our profession chose to prioritize the current fee-for-service model over providing care for more Americans?
In August 2020, ADA President Dr. Chad Gehani publicly stated that dentistry is essential healthcare. Then, the ADA released an interim policy defining essential dental care and stating that it should continue to be delivered during these times.
But since when have we believed dentistry is essential healthcare? If we had believed that in 2010, then we would have fought to include oral healthcare for both children and adults in the ACA's 10 essential health benefits. So why now?
If dentistry is defined as essential healthcare, might we qualify for certain types of COVID-19-related financial assistance? Will we have better access to personal protective equipment or future vaccinations? Will we be supported by the Centers for Disease Control and Prevention and other government agencies in keeping our practices open?
Or is it because we truly believe that oral healthcare is suddenly essential to Americans' overall health and well-being? Is it because we know that if our profession publicly states that we believe it is essential, then our patients will be able to access care, even during a pandemic?
I want to believe that the interim policy was motivated by all of these reasons, because each is important and good. The cognitive dissonance rests in the following question: Is dentistry essential healthcare only when it benefits us as a profession?
Stating "essential" implies that we believe all Americans should value and have access to oral healthcare. So shouldn't we be willing to promote policies that advance these objectives?
Expanding Medicaid, including dental benefits in Medicaid plans, and reauthorizing the Children's Health Insurance Program have increased the number of dentists seeing publicly insured patients, thus increasing dental visits for vulnerable populations. These are the kind of big policy decisions that produce a real, meaningful effect for Americans. These policies align with the statement that dental care is essential healthcare.
And yet, policies like adding a dental benefit to Medicare to increase access for our older patients or creating a midlevel provider to address provider shortages for underserved populations have historically not been supported by organized dentistry's leaders. Isn't that hypocritical? How can we think dental care is essential but not support policies that improve access to said "essential care"?
I am not implying it's that simple. I am implying it's hypocritical.
Chaos has a way of making us question who we are and what we want to be as a profession. COVID-19 has certainly been chaotic and has forced us to find new ways to train our students, access our patients, and provide dental care. I believe many of these innovations will transcend into our postpandemic world. Today, we are motivated by keeping our practices open, and so today we would like to be "essential."
I wonder what we'll decide to be tomorrow.
Dr. Caroline Zeller is a dentist in Oregon. She splits her time in underserved clinics throughout the state, providing oral surgery services for low-income populations. Zeller is also an assistant professor in the oral surgery department at Oregon Health & Science University. This past year she was awarded ADA's 10 under 10 award and has been selected as a recipient of Incisal Edge magazine's 40 under 40 award. She serves as an ADA delegate-at-large and is very active in public health and policy in her state.
The comments and observations expressed herein do not necessarily reflect the opinions of DrBicuspid.com, nor should they be construed as an endorsement or admonishment of any particular idea, vendor, or organization.