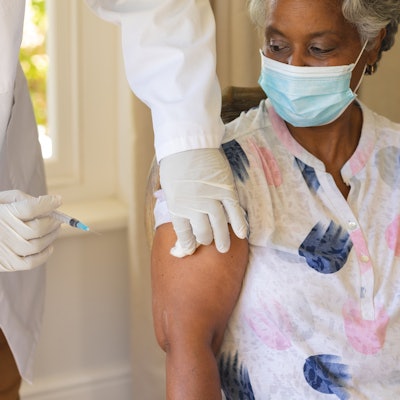 COVID-19 vaccination should be mandatory for oral healthcare workers, students, and residents, according to a statement issued September 1 by a dozen oral and public health organizations, including the American Dental Hygienists' Association (ADHA).
Until now, no national dental organizations have called for mandatory vaccination of the oral healthcare workforce and students. In July, a coalition of 57 health organizations and societies for medicine, academic health centers, nursing, pharmacy, and public health issued a statement advocating that all healthcare and long-term care employers require their workers to receive COVID-19 vaccines to fulfill their ethical commitment to protect fellow workers and patients.
"As dental public health professionals, we stand with the major health care and public health organizations that support required universal vaccination of health care workers," the participating organizations wrote in the September statement.
The ADA and several other dental specialty organizations did not sign the statement, but the following organizations did:
American Association for Dental, Oral, and Craniofacial Research
American Association of Public Health Dentistry
American Board of Dental Public Health
American Dental Education Association
American Dental Hygienists' Association
American Institute of Dental Public Health
American Public Health Association
Diverse Dental Society
Hispanic Dental Association
National Dental Association
Oral Health Progress and Equity Network
Society of American Indian Dentists
"As leaders in health care and research, we must advocate for policies supported by the best available scientific evidence," stated Dr. Jacques Nör, PhD, president of the American Association for Dental, Oral, and Craniofacial Research, in a release from the association. "In this case, the COVID-19 vaccine is clearly necessary for the health and safety of oral health care workers and for the health and safety of the patients we serve."
Throughout the pandemic, the health, safety, and well-being of healthcare workers and the patients and communities they serve have been the highest priority for the ADHA, noted Sharlee Burch, RDH, president of ADHA.
"The evidence supporting COVID-19 vaccination is clear, strong, and growing," Burch said in a statement sent to DrBicuspid.com. "COVID-19 vaccines are safe and effective at reducing substantially the risks of becoming infected, spreading the infection to others, and becoming severely ill or dying from the disease. Signing this joint statement is a clear reflection of ADHA's support for both CDC's [the U.S. Centers for Disease Control and Prevention] recommendation on vaccination of all health care workers, and our ethical standard to promote the health and safety of dental health care workers and the community we serve."
On September 2, the ADA said in a statement that it "strongly encourages" all members to get vaccinated and urges them to tell their team members to do the same. Furthermore, the ADA noted it is following the CDC's vaccination guidelines, which currently does not recommend mandatory COVID-19 vaccinations for healthcare workers.
"While the ADA is not a regulatory agency calling for a nationwide vaccination mandate, we are urging state and local dental societies to consider all the public health strategies available to them, based on the exposure risks in their area," the ADA stated.
With the U.S. Food and Drug Administration's recent approval of the first COVID-19 vaccine, "the ADA will reassess if any updates occur to the recommendations of the CDC for healthcare personnel," according to its statement.
Why now?
Because some oral healthcare workers remain unvaccinated, dental organizations decided to call on government executive, regulatory, and legislative entities to mandate vaccination. Though they are pushing for a mandate, the organizations recognize that some personnel cannot be vaccinated due to medical reasons and, therefore, should be exempt.
Nevertheless, those who have failed to get shots due to medical reasons constitute a "small minority of oral healthcare workers," according to the September 1 statement.
As of June 2021, 93% of dentists reported having received at least one dose of a COVID-19 vaccine and 90% reported being fully vaccinated, in research from the ADA's Health Policy Institute (HPI). The data were based on responses from 1,561 dentists.
As of late July, 73% of surveyed dental hygienists were fully vaccinated, and 78% had received at least one dose, according to HPI.
It is unclear how many dental therapists, assistants, and other office employees are vaccinated for COVID-19.
Additionally, those organizations in favor of mandatory vaccination believe now is the time for the oral health workforce to continue to address workers' concerns, engage with marginalized populations, and work with trusted messengers to improve vaccine acceptance.
"The health and safety of U.S. workers, families, communities, and the nation depends on it," the organizations concluded in the September statement.