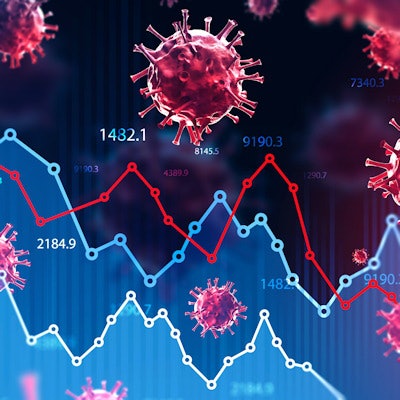 Adult dental care usage continues to fall, according to interactive estimates released on November 16 by the U.S. Centers for Disease Control and Prevention (CDC). In the first half of 2019, 65.1% of adults had a dental exam or cleaning. That percentage fell to 62% by the second half of 2020.
The data come from the 2019 - 2021 National Health Interview Survey (NHIS) preliminary results. The NHIS captures health statistics for U.S. adults ages 18 and older. One of the questions asks adults whether they have had a dental exam or cleaning in the past 12 months.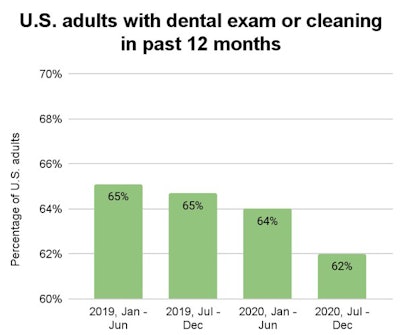 The survey estimates show that dental care utilization continues to fall among U.S. adults, even before the start of the COVID-19 pandemic. The estimates are based on unadjusted, preliminary data from the CDC and may change with final data editing and weighting.
Annual doctor visits and blood pressure checks are also on the decline, the NHIS estimates show. Other findings include a decrease in adults who didn't get needed medical care because of cost and an increase in the percentage of adults who have missed six or more work days due to illness, injury, or disability.
The CDC has yet to make available dental care utilization data for 2021, so it is still to be determined whether examinations will increase or if the lower percentage of visits point to a new normal.
The dental data mirror long-term numbers from the ADA Health Policy Institute showing a declining percentage of U.S. adults who visit the dentist on a regular basis. The institute's Chief Economist Marko Vujicic, PhD, believes we've entered into a "new normal" with fewer adults seeking regular dental care.
"The data suggests the dental care rebound is tapering off and we are reaching, if not already in, the 'new normal,'" Vujicic said in a July 2020 webinar.