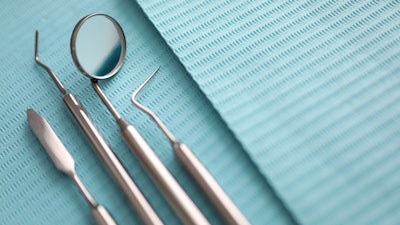 A Washington, DC, dentist's license was revoked for reported sexual contact with a patient, misrepresenting himself as an integrative medicine doctor, and performing services outside the scope of dental practice, including administering psychokinesiology tests.
Dr. Mark McClure, part owner of National Integrated Health Associates (NIHA) in Washington, DC, was accused of failing to maintain adequate records of service and failing to conform to acceptable conduct. Also, McClure violated a consent order signed in May 2021 for which his license was placed on probation and McClure agreed to refrain from performing any treatment beyond dental care, injecting patients with substances -- including gold and ozone -- performing neural therapy, and more, according to the 69-page final order dated August 14, 2023, from the Government of the District of Columbia Department of Health Regulation and Licensing Administration Board of Dentistry.
"The Board finds that the Respondent's conduct has no place in the practice of dentistry in the District of Columbia," the order states.
McClure cannot have his license reinstated or seek a new one in the district for five years.
How it began
In 2017, a woman who was experiencing jaw and other pain sought a biological dentist after an acquaintance told her that her pain may have stemmed from the mercury in her dental fillings. During her search, she found McClure. The biography on the practice website stated that McClure's specialty included "integrated medical dentistry." The woman became a patient of McClure's, according to the order.
At the time, he allegedly convinced her that he was qualified to perform services outside the scope of dentistry.
After seeing the patient a handful of times, McClure reportedly told the woman she was having a response to heavy metals, certain foods, and allergens. He then performed autonomic response testing and allergy elimination therapy on her. From there, he performed cavitations, removed a tooth that contained amalgam, and injected her nostrils. Also, he diagnosed and treated her for parasites and allergies, according to the order.
Over time, the treatment evolved to allegedly injecting 2,3-dimercapto-1-propanesulfonic acid and procaine into her spine, feet and legs, organs, and around her head, which he referred to as a "crown of thorns." Ultimately, he purportedly injected these substances into her vagina and vaginal area, including her episiotomy scar, according to the order.
Furthermore, he allegedly performed psychokeniosology, muscle testing, and neural therapy on her. Also, the patient testified to the board that McClure urinated in a bottle in front of her, refused to give her a gown after she removed her sweater as instructed, and made lewd comments to her about her looks and more. He reportedly told her he engaged similarly with other women, according to the order.
Additionally, McClure allegedly prescribed long-term psychiatric medication, including Xanax, to the patient. Eventually, a staff member at the practice allegedly informed the patient that McClure could no longer prescribe her Xanax, and the employee said, "He's already such on thin ice that he refuses." The patient said she told the employee that she was going to report McClure. The patient then received a phone call from her primary care doctor, McClure's mentee, stating that the dentist "called me this morning frantic. I'm more than happy to refill that prescription for you."
The patient's doctor then requested that the three of them meet and that her husband not come. During the meeting, the physician reportedly asked multiple times if she was going to report McClure, threatened to not prescribe her anymore Xanax if she did, and further told her that if she reported McClure, it would result in bad consequences for her.
The patient's doctor had been prescribing her 9 mg of Xanax per day and then stopped giving it to her. The patient testified that it resulted in her having a seizure, and she had to enroll in a 45-day inpatient treatment program.
Employees voice their suspicions to the board
In July 2021, an employee who worked at the practice for about a year notified the state licensing board that McClure was performing services outside his scope as a dentist. McClure allegedly told employees to chart certain tests he performed on patients and keep the tests in different files. Also, the employee claimed that the dentist pressured her to perform services outside the scope of dentistry, including conducting autonomic response testing and allergy elimination therapy, on patients and even provided a cheat sheet that instructed her how they should be done, which the employee refused to do, the order states.
Another employee, who claimed to be wrongfully terminated after working at the practice for 13 years, purportedly confirmed the practice of filing patients' nondental testing results in a separate filing cabinet to hide them. Furthermore, the employee claimed that she was aware of 21 patients who received muscle testing, autonomic response testing, and allergy elimination therapy from McClure.
Additionally, McClure violated the consent order he signed on May 24, 2021, in which he agreed to abstain from performing services outside the scope of dentistry and other conditions by purportedly performing allergy elimination therapy on a patient the next day, according to the order.
Furthermore, the board heard testimony from an expert witness that McClure's patient intake forms asked inappropriate questions, including the patient's place of birth, their birth order, and the number of siblings they had. Billing records reportedly showed that McClure prescribed and sold the antiparastic drugs quercetin and bromelain to patients, though there would be no reason for a dentist to instruct patients to take these substances.
Finally, according to the final order, the office's intake forms indicated that some practices were improper.
The dentist's allergy elimination technique consent form stated, "It may not be a physician or licensed practitioner, but they've been trained that way." The autonomic response testing consent form stated that "ART has not been recognized by the dental or medical communities or federal or state regulatory agencies and has not been demonstrated by clinically controlled studies to be valid," according to the order.