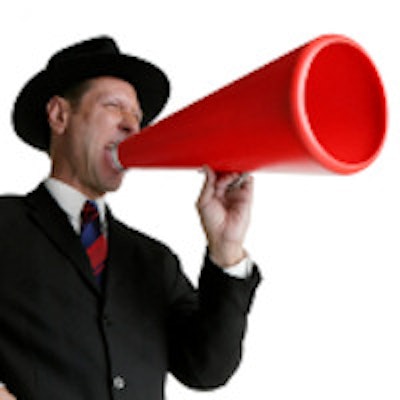 The lawyer for a Texas dentist sent a letter threatening criminal charges to an ex-patient after she posted a negative review on Yelp. But Texas has repealed its criminal libel law, and the state has one of the strongest laws protecting individuals' rights to comment about issues of public interest, an attorney for the ex-patient noted.-->
The situation arose when a former patient of San Antonio pediatric dentist William Coppola, DDS, posted a negative review on Yelp after she brought her child into the dental office in January of this year.
"Threat letters from lawyers are scary things."
— Leif Olson, attorney
Dr. Coppola's lawyer, Isabel de la Riva, then sent the ex-patient, known only as Jen B., a letter in May saying the online comments were "willfully false and defamatory."
"You are hereby on notice that if you fail to retract your libelous post on yelp.com that we will recommend to our client that he pursue legal action against you," according to the letter sent by de la Riva.
Texas repealed its criminal libel law in 1974 and recently passed one of the strongest anti-SLAPP (strategic lawsuit against public participation) laws in the U.S. Anti-SLAPP laws are designed to protect First Amendment rights to speak freely on issues of public interest and have been used successfully in other litigation involving online reviews of dentists.
Leif Olson, an appellate and commercial litigation attorney in Humble, TX, stepped in to help Jen B. pro bono after he was contacted by Los Angeles criminal defense lawyer Ken White, who writes the PopeHat law blog.
Olson responded with a letter to de la Riva and Dr. Coppola that noted that Jen B.'s post was not legally actionable, but that the threat letter from de la Riva is legally actionable under Texas' anti-SLAPP law.
"A statement isn't defamatory unless it's false, and a statement that is 'substantially true' isn't false. Nor does 'substantial truth' depend on how many nits Dr. Coppola thinks he can pick from Jen B.'s statement," Olson told DrBicuspid.com. "Similarly, all assertions of opinion are protected by the First Amendment of the U.S. Constitution and Article I, Section 8 of the Texas Constitution. Her statements are classic expressions of opinion with which Dr. Coppola may disagree, but which he cannot suppress."
Olson also asked that Dr. Coppola promise not to pursue any claims against Jen B. and that he send her a handwritten letter of apology.
"Threat letters from lawyers are scary things, and unless a person is lucky enough to have access to a lawyer who can explain the law behind the First Amendment and explain a person's rights under the anti-SLAPP statute, that can be a very effective use of a person's money to get negative things removed from the Internet," he said.
'Went too far'
Dr. Coppola told DrBicuspid.com that he didn't see de la Riva's letter until a month after it was sent, and he felt it went too far. "I think she went beyond what was reasonably warranted," he said.
"It was unfortunate that the mother of the patient was displeased with her experience with our office," Dr. Coppola wrote in an email to DrBicuspid.com. "With that said, my conduct in the office was nothing but professional, as witnessed by multiple experienced staff. I stand by my diagnosis, which adhered to guidelines and policies of restorative dentistry from the American Academy of Pediatric Dentistry. I believe that specialists in pediatric dentistry who would review these records would agree with my diagnosis. My only goal was to provide proper dental care for the child."
de la Riva did not respond to calls and emails seeking comment.
Dr. Coppola said he has no plans to sue his former patient.
Dentists who have tried to fight negative comments posted online have often been unsuccessful. In 2011, a California dentist who filed a defamation case over negative reviews on Yelp.com had to pay $80,000 in attorney fees to a young patient's parents, whom she sued. A California appeals court supported Yelp reviews in 2010.
And a class-action lawsuit was filed in 2011 against a New York dentist who required patients to agree not to post negative comments about her online before she would treat them.
"In situations like this, it's not just a person like Jen B. whose rights need to be protected," Olson said. "There is no way of knowing whether he'll mention to his friends or colleagues that he was able to get this kind of review taken down by spending a couple of hundred dollars on a lawyer to send a letter. If we are going to have a frank exchange of ideas and opinions about people who are acting in the marketplace in this country, then we need to be sure that the people who are expressing those opinions are protected."