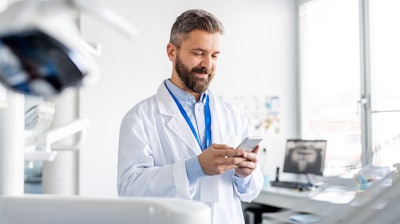 Dentists seem to have quite a fan base on TikTok. Dentists have racked up nearly 33 billion views, making it the fifth most-viewed professional on the platform, according to a recent study conducted by the organization RegisteredNursing.org.
Dentists ranked above high-pressure jobs like pilots, firefighters, and police officers, according to the analysis. However, the most in-demand career was doctor, which garnered over 61 billion views. Teachers came in second place followed by nurses and chefs. TikTok users were least interested in public relations specialists, which came in last with 12,000 views, according to the analysis.
The organization built its list of professions based on the U.S. News 100 Best Jobs list and then narrowed the list to 35 by removing careers with little to no representation on TikTok or those that overlapped with other professions. The ranking was determined by using hashtags for each profession, such as #dentist, to find the number of TikTok views associated with that topic as of May 9, 2023.
To gain an overall idea of views translated to time spent watching content, the organization took the average length of a TikTok video and calculated the average number of minutes users spent watching videos about each career. Overall, TikTok users spent more than 3.7 billion hours viewing content about all 35 professions.
In terms of time spent watching profession-related content on TikTok, dentists also came in fifth place, according to the study. The average time spent watching content related to dentists was 336 million hours, or about 38,356 years, according to the study. Again, doctors were on top in terms of time spent watching content, with users viewing more than 630 million hours of physician-related videos.