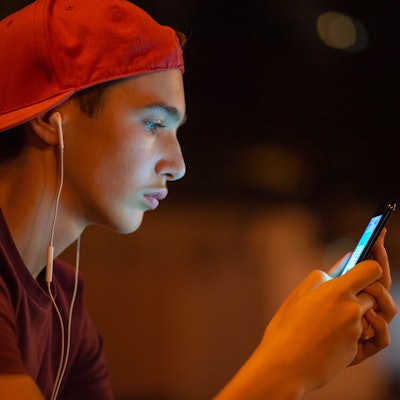 Dental Dose is a twice-monthly video series featuring pharmacologist Tom Viola, RPh. In each episode, Viola shares bite-sized pieces of dental pharmacology news, facts, and myths.
It's another episode of pharmacology after dark, the new Dental Dose segment in which Viola shares tales of legal medications used illicitly. In this episode, he talks about a viral TikTok trend that led teenagers to take high doses of common over-the-counter medications.
"Both of these drugs were the subject of TikTok challenges," Viola said. People were challenged "to take these over-the-counter drugs, which you can buy freely anywhere, and take them in high doses and get the 'proposed effect.' "
Diphenhydramine, an antihistamine known by the brand name Benadryl, was one of the drugs to go viral on the social media platform, Viola said. Benadryl is a popular medicine-cabinet staple for treating allergic reactions, such as hives and rashes. But unlike newer antihistamines, it can cross the blood-brain barrier, and in high enough doses, it can cause hallucinations.
"Kind of like the poor woman's or poor man's LSD," Viola said.
The other medication to go viral was loperamide, an antidiarrheal known by the brand name Imodium. Loperamide is an opioid, which is why it's used to promote constipation, an effect that's helpful if you're taking it as an antidiarrheal, Viola said.
Imodium doesn't produce opioid effects if taken as directed. But, like Benadryl, it can cross the blood-brain barrier and produce opioidlike effects if taken in very high amounts, Viola said.
"You're talking sometimes 10 to 15 times the recommended dose," he said. "If you're taking that, it can't be very comfortable."
Viola pointed out these two viral trends because both Benadryl and Imodium can have effects dental professionals need to be aware of. In high doses, Benadryl increases the risk for heart arrhythmia, which is also a risk of common dental drugs like lidocaine and epinephrine. In addition, the opioidlike high produced by excessive Imodium intake can include respiratory depression, a risk of the opioids often prescribed by dentists.
"That's the dental connection," Voila said.
Learn more about the illicit uses of Benadryl and Imodium in the video below.
Do you have a topic suggestion for Dental Dose? We'd love to hear it. Send your ideas to Theresa Pablos.