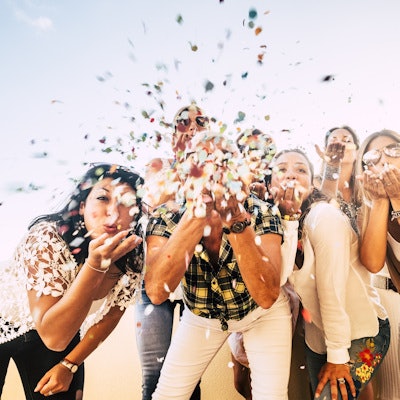 During this time of year, you can feel like you're doing too much. On any given day, you could be hunting for the perfect gift, preparing for your kids to return home, making plans for New Year's, or tying up loose ends at work.
The planning, working, and rushing around can leave you without enough time to relax and reflect. So DrBicuspid.com gave those in dentistry an opportunity to share their favorite holiday traditions, memories, and more.
Some whine with that tree
Dr. Teresa Yang, who serves as a trustee at the California Dental Association, didn't appreciate her family's annual excursion to cut down a Christmas tree until now.
"Every December, my father drove the family to Sebastopol (in Sonoma County, CA), about an hour away, to a Christmas tree farm," Yang said. "There, we would traipse around and select just the right tree, cut it down, and haul it home. 'Why can't we just buy one at the corner lot?' my brother and I would whine, every year. Now, so many decades later, this is one of my cherished Christmas memories."
A passport to Italy via Brooklyn
Dr. Margaret Scarlett, a practicing dentist, author, and consultant, still cherishes the Christmas celebrations she experienced with her Italian grandmother and many cousins in New York.
"For one of my grandmothers, January 6 was the day to exchange gifts, as Christmas was a religious holiday for a Southern Italian family," she said. "Arriving from South Carolina with my parents and sibling by car or train, we would brave the cold in Brooklyn, New York, to celebrate and exchange gifts on the last day of our visit. My grandmother would make struffoli, carefully, with the door to the backyard alley of the house open to let air into the tiny, airless kitchen, filled with love and freshly made ravioli with parsley and ricotta cheese. I crimped these by hand, presaging those awful ortho classes in dental school. After a breakfast of Italian bread toast and hot chocolate with Dutch cocoa, we would start making the balls and putting them together, bridging the language gap between my grandmother and I, who had limited English capacity. After the balls were fried, we would drizzle honey and sprinkles on the top."
But that's not all.
"My immigrant grandmother smiled a huge smile, as she had already prepared a king cake in secrecy before I even got up," Scarlett continued. "Hidden in one of the slices was a paper crown. ... All the children would sit around the table, and I would meet my Italian New York cousins. ... Whoever got the slice of the cake with little baby Jesus was the king of the day, [and] received a paper crown to wear and preen."
Then, Scarlett and her cousins would scramble and topple the pile of struffoli.
"With honey drizzling from our mouths, we would get up and wash our hands and come back to the table to exchange small gifts with each other," she said. "These were modest, like a paper fan, a Cracker Jack prize, or a small toy, or gold-wrapped coins filled with chocolate."
Her grandmother taught her some Italian words, and they all sang and enjoyed each other's company until they nodded off to bed.
"I woke up ... joyful and happy to be part of the lessons of love and gratitude when we left the next day for the long trip back to the South," Scarlett recalled.
Time to search
One of the fondest memories of Stephenie Goddard, the CEO of Glidewell, is of a still-current tradition.
"Every year, Santa leaves a scavenger hunt behind for the kids to kick off their morning of holiday craziness," she said. "They wake up to a note from Santa telling them where he thought he left their gifts. They run upstairs, downstairs, outside, looking everywhere for the next clue to where Santa left their gifts. My son is now 20, my daughter is 16, and to this day, they still look forward to the Santa scavenger hunt. Santa keeps trying to get trickier every year with his hidden messages and coded clues, but as they age, they are way too smart for Santa. It's pure joy for me to watch them run around and try to figure out all the clues."
Grandfather made it merry
This time of year elicits mixed emotions for Dr. Michael W. Davis, who practices general dentistry in Santa Fe, NM.
"Numbers of Christmases past were fairly lean for this child," he said. "Not much was in evidence for food, gifts, or cheer. However, the exception was incredibly magical gifts from my grandfather, who always seemed to live very far away. He resided in this remote kingdom called Pennsylvania. At age 7, I ripped into an elongated box, which held a very odd device. It was a working microscope."
The microscope kept him busy for countless hours.
"I severed the heads of ants and gazed with jaw-dropping amazement at their vicious mandibles," Davis said. "I intentionally cut into my finger with a kitchen knife, drawing sufficient blood to dab on a glass slide. The red blood cells reminded me of stacked (Rouleaux formation) and singular Life Savers candies."
One time, he used a small paper cup to gather pond water, which he viewed under the microscope.
"I witnessed a plethora of fantastic otherworldly life forms," he said. "Some seemed to get along, while others devoured one another. No adult guided or assisted me. However, I have learned this activity is generally beyond the abilities of a child. Angels rested on my shoulders."
The next year, Davis' grandfather gifted him a chemistry set. Sans adult supervision and combined with the lenient pharmacies of yore, Davis was able to acquire sulfur, saltpeter, charcoal, and other chemicals.
"My forte was smoke bombs and stink bombs," he said. "I was also elated by tossing small bits of lithium wrapped in wax paper into water. Kaboom! Unknown to me at the time, my angels were educating me on the wonders of oxidation/reduction chemical reactions. As I reflect back today, I wonder just how my grandfather and my angels communicated. Maybe granddad was also an angel."
Believe or it's underwear
Dr. Christopher Richardson, president of the American Academy of Periodontology, said some of his fondest memories are of his young children.
"They would get up at 5 a.m. on Christmas morning and run down the stairs in absolute and sincere excitement that Santa had come the night before," he said. "They were so excited to see the presents he left for them under the tree. Those memories are so special and so vivid. Even today (my kids are now 20 and 23), there is a sign that we put by the tree that says, 'If you don't believe in Santa Claus, you get underwear for Christmas!' Nobody wants underwear. We all still believe."
Well-stocked stockings
Stephen Thorne, the founder and CEO of dental service organization Pacific Dental Services, loves when his family hangs out together and opens the gifts in their stockings.
"One tradition that I love is opening stockings in the morning," he said. "Normally, my wife and I are up late on the 24th making sure everything is ready for a beautiful and relaxing Christmas. We have huge stockings, and my wife is great at finding fun stuff to put in them. We keep the stockings in our room, and when the kids get up early (I mean they are usually up by 6 a.m.), they come running in with the dogs and we turn on the fireplace, get some coffee and hot chocolate going, and then all sit around our bedroom and open stockings."
Not all gifts are created equal
Dan Burke, chief enterprise strategy officer and general counsel at Pacific Dental Services, loved his extended family's gift exchange -- but knew which gifts to avoid.
"Our extended family did a big grab gift exchange where every child received a present, given out by the uncles and aunts who all dressed as Santas and elves," he said. "It was so much fun unless you had Aunt Irene as your Santa. She always gave sweaters despite the chorus of groans from the cousins."
Road trip
When he was a child, Dr. Roger P. Levin, CEO and chairman of Levin Group, and his family would spend the holidays driving down South.
"Every mid-December, when I was a child, my family of five would pile into a station wagon in Baltimore and drive to Florida for vacation," he said. "Airline costs were very expensive in those days. The driving time with the family was truly a great time to be together, have fun, play games, read, eat fried clams at Howard Johnson's restaurants, and sleep over in two-story Holiday Inns. My father was a dentist and had the best of our profession. He loved his career and we loved hearing about it. And thus, I became a dentist after my grandfather and father. And, until COVID occurred, my son and I continued the tradition of driving to Florida every December, spending time together and then driving back. I look forward to reinstating the trip next year."