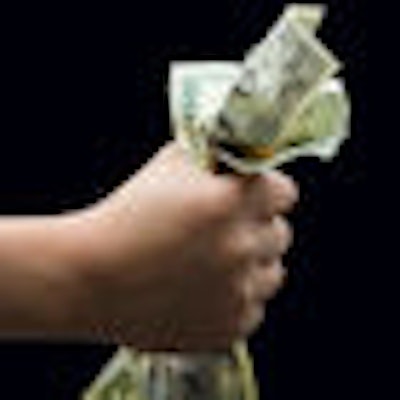 Surviving on a meager $1,300 a month, 87-year-old Theresa Ferritto fretted about the cost when her dentist told her she needed two teeth pulled.
She figured an oral surgeon would be too expensive. So she decided to try out a dental chain that promoted steep discounts in its advertisements. She went to an Aspen Dental office just outside Cleveland.
Ferritto said Aspen Dental wouldn't just pull the teeth but insisted on a complete exam. She was bewildered when they finally handed her a treatment plan four pages long. Total price: $7,835.
Ferritto could not afford it, but Aspen Dental signed her up for a special credit card, with monthly payments of $186 for five years. She blames herself for signing the papers.
"I made a big mistake going there," she said. "I should have known better."
After a day of cleanings and two fillings, Ferritto asked her son for help. He called Aspen Dental to complain but said he got nowhere. So they turned to the state attorney general.
Aspen Dental took all charges off her credit card for treatments she hadn't yet received, but said the $2,540 she was charged for two fillings and cleanings was appropriate.
Aspen Dental charged Ferritto $350 for an antibiotic put next to teeth the dentist was going to pull, a charge other dentists say makes no sense. There were four separate charges for an antibacterial rinse similar to Listerine for $129. There was even a $149 charge for an electric toothbrush that Ferritto didn't even know she had until she recently retrieved an Aspen Dental bag from her garage and found it inside.
Imagine how many groceries that would buy, she sighed.
When asked if Ferritto was taken advantage of, Aspen Dental Chief Executive Robert Fontana said, "I hope that the team was clear about what she needed and that she completely understood what she was getting into. And hopefully, you know, she made the choices that she thought was right for her."
High-pressure sales
Aspen Dental is a chain of nearly 350 offices in 22 states managed by a company owned by a private equity firm. It is part of a fast-growing industry of corporate dental practices, many of which specialize in serving people who cannot afford to go to the dentist, a group many dentists ignore.
By marketing to people who haven't seen a dentist in years, Aspen Dental often gives new patients treatment plans costing thousands of dollars. The Center for Public Integrity (CPI) and the PBS "Frontline" program spent months examining Aspen Dental and found that the same business model that makes Aspen Dental accessible to people short on cash can also lock people into debt and has led to complaints of patients being overcharged or given unnecessary treatments.
"There are goals and if you are not hitting your goals, then you lose your job."
— Jenny Hayes, former Aspen Dental
office manager
Former employees say Aspen Dental trained them in high-pressure sales. Corporate management scrutinizes the production of dentists and staff daily. And internal documents show that dentists get paid bonuses as key production targets are met.
"You've got people who are not dentists, that are in management. ... They are breathing down the doctor's back," said Jenny Hayes, who worked as an office manager for Aspen Dental in the Chicago area last year. "There are goals and if you are not hitting your goals, then you lose your job."
Aspen Dental denies that its dentists have stronger financial incentives than other dentists or that its bonuses affect treatments. Fontana, founder and chief executive officer of Aspen Dental, based in East Syracuse, NY, said dentists won't do unnecessary treatments because "it's just not in their DNA."
"I'm not even sure what corporate dentistry means, because we have no influence on the dentistry," Fontana said.
He said Aspen Dental frees dentists to focus solely on patients, because the company handles back-office duties such as marketing, accounting, and billing. In fact, dentists own and control all of the practices, Fontana said. All but four states forbid anyone who's not a dentist from owning a practice on the assumption that dentists are trained and motivated to put patients ahead of profits.
But Sen. Charles Grassley, a Republican from Iowa, questions whether dentists at corporate dental chains are free from corporate pressures to maximize profits. Grassley, the ranking member of the Senate Finance Committee, wouldn't speak about Aspen Dental specifically, but he's had committee investigators looking into the company and other private-equity-owned chains for months.
"Because when private equity firms get involved," Grassley explained, "you got to understand that their motivation is to make money. And they are not dentists. And dentists ought to make the determination ... of what is good for the teeth ... not some private equity manager in Wall Street."
Aspen Dental says it serves people who otherwise wouldn't go to a dentist. Forty percent of Americans have a family member who put off going to the dentist because they couldn't pay for it, according to a survey by the W.K. Kellogg Foundation. Aspen Dental looks for ways to make it easier for those people to walk into their offices, according to Fontana.
Their offices are easy to spot at shopping centers, often near fast-food restaurants. Posters advertise a free exam and x-rays. Many of their new patients walk in the door without an appointment. Aspen Dental accepts most insurance and if the patient is still short on cash, they will sign you up on your first day for "no-interest" credit cards through GE Capital or Chase.
Mandatory exams
Aspen Dental specializes in dentures, which they make in each office. The consultation room has a tray of dentures to choose from, ranging from the basic no-frills model to the "precision hand-crafted" ComfiLytes, coming in 27 shades. Internet ads offer dentures on sale for $249. Its commercial tells stories of a man in pain from poor-fitting dentures and a woman too embarrassed to smile.
"I'm not even sure what corporate dentistry means."
— Robert Fontana, CEO, Aspen Dental
Aspen Dental insists that all new patients get a comprehensive examination. So even if someone just wants a routine cleaning or needs a broken tooth fix, Aspen Dental presents a treatment plan for any problems that may crop up years later. Fontana said this approach is what's best for patients, because neglected teeth and gums can lead to serious problems. Several former employees, however, describe the initial exam as a sales tactic to maximize revenue on each new patient.
"People would come into the office maybe with a toothache and come out with a treatment plan that maybe the dentist said we need to extract all your teeth," said Jenny Hayes, the former office manager in Illinois. "They were made to stop in the manager's office and sit down for an intense consultative selling process that they really didn't bargain for when they walked in the door. I had people literally breaking down and crying in my office. And it happened quite regularly."
The average treatment plan presented to new patients runs $4,450 at Aspen Dental's top producing offices, according to an internal company document obtained by CPI and "Frontline." The company says the extensive treatment is a reflection of the patients they draw.
"A typical patient is probably 45 to 65 and struggling just to make ends meet," said Fontana, Aspen's CEO. "They're taking this week's paycheck to pay last month's mortgage, making their car payment, trying to put their kids through school, and, unfortunately, dentistry can become discretionary."
Donna Kelce of Des Moines, IA, fits the profile. At age 55, she hadn't been to a dentist in 15 years. She didn't have dental insurance and didn't think she could afford it. Besides, her teeth never bothered her until a gap starting forming between two front teeth. Embarrassed, she finally went to an Aspen Dental office after seeing one of its commercials.
Kelce was x-rayed and sent to a consultation room, where a dental assistant handed her a treatment plan. Kelce's gaze stopped on a particular word.
"I could feel the kind of blood run from my face, thinking, "Oh my God. Dentures," Kelce said.
Kelce recalls the dentist saying she had no real option but to get dentures because she had lost too much bone for implants. She wasn't sure how she could afford Aspen Dental's $3,700 bill. But then the office manager signed her up for a "no-interest" credit card through Chase. Relieved, Kelce thought she was getting a bargain.
She came back in late November 2009 to have 13 teeth pulled. But she said the dentist pulled and pulled and couldn't get all the teeth out, breaking one at the root. Kelce wondered if so much bone was gone, why the teeth weren't coming out easily. After three hours, the dentist still had six teeth to pull but said she could do no more because she had already given Kelce the maximum dose of Novocain.
Aspen Dental sent Kelce to one of its former dentists who could see her that evening. Dr. Jessica Lawson looked at Kelce's teeth and concluded that they didn't all need to be pulled. But she finished the work so Kelce could wear her dentures. She suggested that Kelce report the incident to the Iowa Dental Board. Dr. Lawson herself wrote a letter to the board.
"Having worked at Aspen Dental myself for a short period of time, I am well aware of the type of care that can potentiate, especially if the doctor isn't firm with the office manager and regional managers in providing the standard of care that he/she is use to, instead of producing the numbers that Aspen requests and expects," Dr. Lawson wrote.
The dentist at Aspen Dental did not return phone calls for comment. But she gave a different account of Kelce's treatment in her notes. She said she suggested alternatives but that Kelce "insisted on dentures and full upper extractions even though (six upper teeth) can be saved." She added that four of those teeth might not last forever.
Kelce, who is now suing for malpractice, said the dentist never told her any of her teeth could be saved.
"Who in their right mind would let them pull my teeth if they didn't need to?" she asked.
Continue reading this article at the Center for Public Integrity (CPI) website, iWatchNews.org. CPI is a nonprofit, nonpartisan investigative newsroom located in Washington, DC.