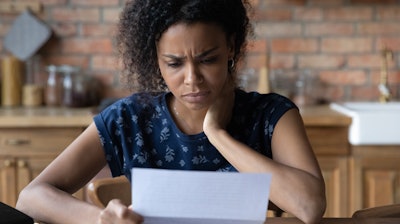 On average, a dental school graduate in 2022 incurred an educational debt of about $294,000 or almost five times as much as the $66,000 a student owed when they graduated in 1996, according to an editor's note published on May 12 in the Journal of Dental Education.
Since dental education debt remains high and is likely to continue rising, the profession may need to look beyond softening the financial blow via loan repayment programs and scholarships and instead focus on ways to reduce the cost of education, the authors wrote.
"It is time for dental education to have conversations at every level and explore new ways to provide a better and more efficiently educated professional," wrote coauthor Dr. Michael Reddy, DMSc, of the University of California, San Francisco.
For years, escalating student debt has been a hot topic. In 2022, it came into greater focus when President Joe Biden presented a plan that would cancel up to $20,000 in student debt for some U.S. borrowers. The plan faces several lawsuits, and the U.S. Supreme Court is expected to decide by the end of June whether the plan can move forward.
There is evidence that high student debt deters graduates from pursuing careers in dental research and public health, which impacts diversity and alters dentistry's ability to meet the needs of all populations, the authors wrote. New approaches to dental debt are needed, according to the editor's note.
As dentistry, policymakers, and other officials attempt to solve this problem, they may want to look at the educational and delivery models that people experimented with during the COVID-19 pandemic for inspiration. For example, newer educational institutions have placed a greater focus on partnerships with dental service organizations, the broad use of technology and haptics, and community-based education, the authors wrote.
Though traditional educators may be concerned with new approaches, they may need to view the problem and their hesitations from another angle to enact change. Often, resolutions come from listening, speaking with people from varied backgrounds, and not focusing on the cause of the problem and which parties are to blame. Instead of fixating on excuses and justifications for the current student debt problem, stakeholders should be focused on creativity, positivity, and solutions, they wrote.
"To get the ideal outcomes, we need to change what we are thinking," Reddy and coauthor Dr. Romesh Nalliah, MHCM, wrote.