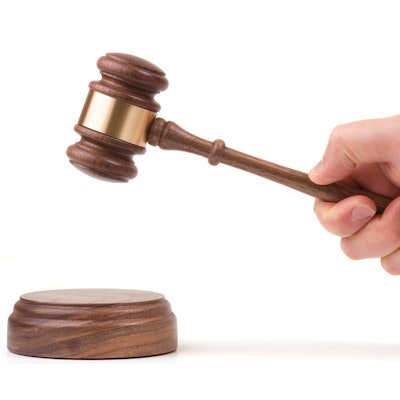 An Alaska dentist who was filmed pulling a sedated woman's teeth while riding a hoverboard has been convicted of reckless endangerment and Medicaid fraud, according to a press release issued by the Alaska Department of Law.
Superior Court Judge Michael Wolverton found Seth Lookhart, DMD, guilty on January 17 of 46 counts of medical assistance fraud, scheme to defraud, illegal practice of dentistry, and reckless endangerment following a five-week bench trial. Dr. Lookhart is scheduled to be sentenced on April 30.
Dr. Lookhart and his office manager Shauna Cranford devised a scheme to push patients into choosing IV sedation over less costly anesthetic methods to maximize reimbursements from the state's Medicaid program. They also cut out Dr. Lookhart's former business partners by having the reimbursements sent to his home, according to charging documents.
Dr. Lookhart faces up to 11 years in jail and may have to pay up to $127,000 in fines plus restitution to his former partners and the state Medicaid program. Several factors, including allegations that Dr. Lookhart preyed on vulnerable patients, will affect his sentence.
"Lookhart believed that he could get away with his fraud indefinitely, and that he believed his scheme was foolproof," Wolverton wrote in an order accompanying his verdict.
Calling the state's evidence in the case "simply overwhelming," the judge also found the dentist's practice Lookhart Dental, doing business as Clear Creek Dental, guilty of all 40 counts alleged against it. His practice faces potential fines of about $3 million.
The large cache of evidence submitted at trial that "was often supported, and often in excruciating detail, by Lookhart's own texts, photos, and videos," the judge wrote. Prosecutors also believe patient testimony, specifically that from patient Veronica Wilhelm, led to Dr. Lookhart's conviction.
In July 2016, the dentist was filmed riding a hoverboard while working on Wilhelm. He sent the video to several people and joked that it was the "new standard of care," according to charging documents. Wilhelm only learned of the video, which can be seen here, when authorities contacted her.
Wilhelm testified that she didn't consent to being filmed while sedated or having her teeth removed while Dr. Lookhart was on a hoverboard. If he had asked, she testified that she wouldn't have given her consent.
How it began
After graduating from dental school in 2014, Dr. Lookhart began working as an independent contractor at Alaska Dental Arts in Anchorage, which was owned by Broc Brimhall, DMD, and Shane Rhoton, DDS.
Shortly after arriving, Dr. Lookhart also obtained a business license for his own business, Lookhart Dental. In 2014, Dr. Lookhart became the solo dentist at Alaska Dental Arts, and he was expected to build the practice with little assistance from the clinic owners. Dr. Lookhart was to be paid the greater of $240,000 a year or 30% of the money he was able to generate at the practice, according to the Alaska Department of Law.
He struggled to do this on his own, so he hired Cranford as his office manager in March 2015. Most of his patients were covered by Medicaid.
Cranford encouraged Dr. Lookhart to begin offering IV sedation to Medicaid patients as an alternative to more common and less costly anesthetizing methods. Typically, the cost for IV sedation is not included in a Medicaid patient's $1,150 annual limit for nonemergency procedures, so this became a highly profitable but illegal way for Dr. Lookhart to build up his practice, according to the press release.
Dr. Lookhart billed Medicaid under a different provider ID and sent the money directly to his home to cut his partners out of up to $350,000 in reimbursements.
Since private dental insurance often doesn't cover IV sedation, Dr. Lookhart also began offering private-pay clients the option of paying a $450 flat fee. However, he was billing Medicaid as much as $2,049 for the same service. Medicaid regulations specifically prohibit providers from billing Medicaid more than the general public.
In 2016, the owners told Dr. Lookhart that he needed to purchase the business from them or be terminated. He opted to buy it for $2 million and changed its name to Clear Creek Dental, according to charging documents.
He continued to push patients to choose IV sedation. In 2016, his practice alone was responsible for 31% of the total Alaska Medicaid payments made for IV sedation, according to the release.
Medicaid has paid Dr. Lookhart approximately $1.9 million for IV sedation services since he obtained his IV sedation license in 2015. However, he had submitted bills for approximately $2.5 million to the state program, the Alaska Department of Law noted.
"Lookhart specifically intended to steal from the Alaska Medicaid program, that Lookhart did so by means of illegally practicing dentistry, and that Lookhart placed his patients in substantial risk of serious physical injury while doing so," the judge wrote.
Cranford entered into a plea agreement for her role in the scheme. She is scheduled for sentencing on February 3, according to the release.