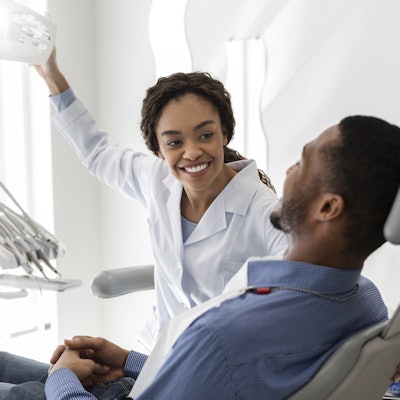 More than half of patients reported that dentists fail to assess them for risk factors, including tobacco and alcohol use and chronic conditions, during dental visits. The study was published in Community Dentistry and Oral Epidemiology.
When dentists conduct health risk assessments, they mostly ask patients about chronic conditions. However, screenings for sexual risk behaviors happened the least with clinicians, who assessed only about 1 in 10 patients for HIV and HPV risks, they wrote.
"Overall, the study findings point to missed opportunities to screen patients for health risk behaviors and chronic conditions," wrote the authors, led by Dr. Yi Guo of the department of health outcomes and biomedical informatics at the University of Florida in Gainesville (Community Dent Oral Epidemiol, July 19, 2022).
Increasingly, policymakers, clinicians, and communities are advocating for better integration between primary medical care and dental care to offer a more holistic approach. Also, boosting opportunities for assessments, prevention, and early intervention in multiple care settings offers the potential to improve health outcomes.
Furthermore, a growing body of evidence has shown that assessing health risk factors, like diabetes and tobacco use, in dental offices may increase opportunities to provide counseling and referrals for those who are identified as at risk. Therefore, the use of systematic screening tools is critical, they wrote.
To gain insight into whether patients are being assessed for health risk factors, researchers conducted a cross-sectional study among 857 patients seen by 30 dentists in the South Atlantic region of the U.S. National Dental Practice-Based Research Network.
The patients reported their level of comfort receiving assessments for tobacco use, alcohol use, dietary sugar intake, HIV risk, HPV risk, existing medical conditions, and whether dentists discussed any of these issues during their dental visits. Then, multilevel logistic models were done to examine the impacts of patient, practitioner, and practice characteristics on the number of risk factors assessed in current dental visits. A U.S. National Institute of Dental and Craniofacial Research grant funded the study.
When assessments were performed, it was most commonly for chronic conditions. Of the participants, 53% reported that they did not receive health assessments for any of the six factors during their current dental visits, the authors wrote.
Roughly one-third (35%) of patients reported being assessed for existing medical conditions at their dental visits. Additionally, 28% of patients reported being assessed for tobacco use, 24% for sugar intake, and 21% for alcohol use. Only 8% of patients reported being assessed for sexual risk behaviors, they wrote.
The study had several limitations, including that patients were not required to report the number of years they had been seeing their dentists. If a dental practice had prior knowledge about a patient's health history, it's possible that some selectively were asked about their health risks, the authors wrote.
In the future, research should focus on providing standardized tools to help dentists systematically assess patients for common conditions, as well as the potential effect of linking health risk assessments to reimbursement for new patient and routine screening visits, they wrote.
"Conducting HRAs (health risk assessments) is the first step in identifying individual health risks to better inform overall diagnoses and treatment plans and to ensure that appropriate counseling and referrals are made," Guo and colleagues wrote.